RADIO ADD DATE: APRIL 5
"Ain't two peas in a pod or two beans either. There ain't but one Pinto Bennett. Thank God. So you best pour your ears full of his knowledge quick as you can. It'll go straight to your heart." -Billy Joe Shaver
Country music icon Pinto Bennett likes to say he has never owned a fancy cigar, but he has had several nice puffs. Now he has returned to the studio one final time to make The Last Saturday Night, an album of original hard country sounds mixed with tender ballads and laced with Bennett's unique humor.
Gently produced by drummer and DJ Jason Beek (Eilen Jewell, The Sacred Shakers), The Last Saturday Night features long-time friends and bandmates Jake Hoffman (pedal steel), Brett Dewey (mandolin, vocals), Dale Wilson (guitar), Bill Parsons (upright bass) and multi-instrumentalist and engineer Steve Fulton. Special guest Jerry "Cold-Blooded" Miller (Eilen Jewell, Bluestime, Billy Lee Riley) unleashes blistering guitar and his trademark atmospheric textures. Americana's queen of the minor key Eilen Jewell also appears on backing vocals.
After seeing several intimate Pinto Bennett shows at Boise honky-tonk 44 Club (and eventually joining Bennett's band), Beek approached Bennett about re-recording some of his popular songs with a production approach that reflected his sound today. Pinto's first response was, "Aren't there any young people that want to make a record?" Beek said he wanted to make a Pinto Bennett record. Bennett replied, "Hell man, I've got drawers full of new songs. I already done recorded those old ones. Let's do the new ones!"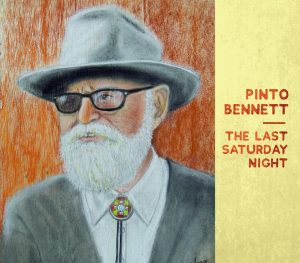 So began a year-long process of assembling song fragments at Bennett's kitchen table. Eventually they formed a band and began rehearsing the material. Then a funny thing happened: every week at rehearsal, Bennett would show up with one or two more new songs that were better than anything else the band had previously worked on. He was fired up, and he felt inspiration and a joy for music that had been eluding him for years.
The son of a sheepherder from Mountain Home, Idaho, Bennett made his first recordings at age 16 in 1964 with a rock band called The Fates. They enjoyed regional chart success before the band members entered the Navy two years later. While stationed in California, he heard Wynn Stewart's Bakersfield country sounds, which changed his life forever. Bennett knew that performing real country music was what he had to do. Bennett's luck changed for the better after his first album with The Famous Motel Cowboys, 'Famous Motel Cowboy Songs' (1986 yada yada records), hit the charts in the UK. Bennett and guitarist Sergio Webb were a hit, and they soon found their way on the International Festivals of Country Music at London's Wembley Stadium with the likes of Willie Nelson and Jerry Lee Lewis.
By the 2000s, his hard living caught up with him in the form of three heart attacks and a stroke, which stole eyesight from one of his eyes. Back in Idaho, he now occasionally performs a Saturday matinee show at 44 Club and appears at the annual Famous Motel Cowboys Reunion in Boise each May. While he has dialed back his performance schedule substantially, Bennett now enjoys mentoring young country songwriters and volunteering at Boise's Veteran's Hospital.
For more information on Pinto Bennett, please contact Nick Loss-Eaton at nick.losseaton@gmail.com or 718.541.1130.