New album out 28th June via Gearbox Records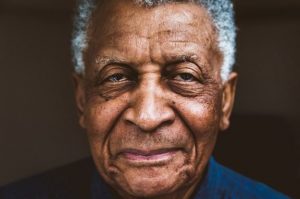 Credit: Gabriel Bertogg
"South Africa's Mozart." – Nelson Mandela
"People don't like Abdullah Ibrahim, they adore him, bestowing on him the devotion normally reserved for Nina Simone. When he plays, melodies tumble out effortlessly, as he slides from theme to theme like a laid-back South African reincarnation of Thelonious Monk." – The Guardian
"There are few musicians in jazz who can make you feel that essentially all is right in the world." – The Times
"Stark pianism and gently rapturous compositions are steeped in the bright harmonies and bouncing rhythms of (Ibrahim's) native Cape Town."
– New York Times
Abdullah Ibrahim, (who has also recorded as Dollar Brand), is one of South Africa's most famous musicians. Born under the apartheid regime, where jazz music was seen as an act of resistance, his music is often referred to as representing freedom. His major anti-apartheid anthem "Mannenberg", (released as "Capetown Fringe" in the US), has come to be regarded as an unofficial national anthem in South Africa; he even performed at Nelson Mandela's inauguration, where Mandela referred to him as "our Mozart". He's played with everyone from Duke Ellington to Max Roach, John Coltrane to Ornette Coleman, and is the father of underground rapper Jean Grae.
Now, at the age of 84, Ibrahim is set to release his first new album in four years entitled 'The Balance'. Featuring his band Ekaya, the new album was recorded over the course of a day in London at RAK Studios last November. Featuring a number of full band arrangements, Ibrahim also recorded several solo improvised piano pieces. Fully encompassing Township-Jazz, solo piano, highlife and plentiful modern jazz styles, the instrumentation is broad; and includes harmonica, cello, and piccolo. In his own words, "With Ekaya, I am blessed in that I have all these textural opportunities."
Going on to speak about the album, he says "We push ourselves out of our comfort zones. So that we can present to the listener our striving for excellence. So that we can engage with our listeners without any barriers of our ego. It's not jazz. For us, it's a process of transcending barriers. Technically it's very, very skilled, but there's simplicity in the complexity so that people can relate to it. It's a natural rhythm of the universe. We've been looking at recording for some time. But we were looking for the correct vehicle. Someone who understands what we're doing."
A new single from the album called The Balance' was recently premiered by New York station WNYC, who described it as having "echoes of both Monk and Ellington but somehow manages to come up with subtly surprising voicings and harmonic choices." 
On April 15th 2019, Abdullah was received into the National Endowment for the Arts Jazz Masters fellowship, the highest honour the United States bestows upon jazz musicians. Watch mini-documentary "NEA Jazz Masters: Tribute: To Abdullah Ibrahim" HERE.
'The Balance' is a major return for a genuine living jazz legend and will be released via analog specialists Gearbox Records, who have recently released key London jazz records by artists such as Binker and Moses, Sarathy Korwar, and Theon Cross, as well as legendary names such as Dwight Trible, Thelonious Monk, Yussef Lateef and more.
US Tour Dates:
February 28, 2020 – Symphony Center – Chicago, IL
April 4, 2020 – SF Jazz Center – San Francisco, CA