"One of the city's truly special Memphis music experiences." – Bob Mehr, Memphis Commercial Appeal
Memphis' Joe Restivo – member of beloved soul band the Bo-Keys – will release 'Where's Joe?,' his debut album, July 12 on Blue Barrel Records (the non-profit label arm of Archer Records). The album crystalizes his interest in Memphis jazz music made at the intersection of jump blues, rhythm & blues, and jazz. This is swinging, fun music, jazz for hipster cocktail parties, which Restivo has been refining with his weekly residency at Lafeyette's over four years.
A protégé of Calvin Newborn, Restivo began playing clubs in the transitional period of the 1990s, when the blues, jazz, and rhythm & blues masters could still be found on Beale Street and elsewhere in Memphis. Restivo would play regularly with organ master Charlie Wood and piano great Mose Vinson and would see Newborn play every week. "He had that bebop element but it was also kind of dangerous and had a rock and roll thing, too. It wasn't purely serious. But he was also playing sophisticated music," remembers Restivo, recalling that he also used to see old-school, jazz-based Beale Street players like saxophonists Fats Sonny and Fred Ford, organist Honeymoon Gardner, and trumpet player Noki Taylor, play live frequently. "You don't hear anyone make the guitar growl a little bit in jazz. These sounds from that era are brackish water. Is Tiny Grimes a rock and roll artist or is he a jazz artist or is he jump blues?," he asks, rhetorically. Taking these influences and making them his own, Restivo's masterful guitar work also recalls national greats such as Oscar Moore (Nat King Cole), Loman Pauling (The 5 Royales), Tal Farlow, and Hank Garland.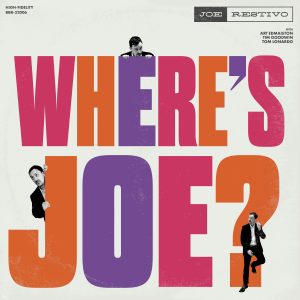 Yet the album is no revival, mostly fueled by original compositions. Take, for example, the film noir-inspired "Last Starlight Motel" or the ballad "Thelma." He recalls, "'Thelma' I named after my grandmother because it reminded me of being in her kitchen, with her smoking cigarettes." Even the covers are done in a new style. Restivo adds, "We played Bill Jennings and Tiny Grimes but we found our own way with them." The standard "House of the Rising Sun" shows up in 3:4 time. Then there's the raunchy Memphis instrumental bonus track, which recalls music from Sun Studio.
Restivo calls upon bassist Tim Goodwin and drummer Tom Lonardo, a Memphis rhythm section that's worked together and apart for over forty years, playing behind every major touring jazz artist. Lonardo is recipient of a Lifetime Achievement Award from the Memphis Musical Heritage Foundation and has worked with who's who, such as Mose Allison, the Duke Ellington Orchestra, Bo Diddley, The Charlie Wood Trio, Jim Dickinson, and Calvin Newborn. Art Edmaiston, a veteran of Gregg Allman and Bobby "Blue" Bland's bands, adds his saxophone.
With the Bo-Keys, Restivo has performed in venues and festivals all over the world including Lincoln Center, London's O2 Stadium, Hardly Strictly Bluegrass Festival, as well as shared stages with luminaries in soul, jazz and blues including Syl Johnson, Newborn, Bobby Rush, and Carla Thomas. A graduate of the Jazz and Contemporary Music Program at New School University in NYC, Restivo has also played with rising soul singer Robert Finley. He spins Memphis jazz as a DJ on his weekly radio show on WEVL.
Restivo plays a late 1940s Epiphone Zephyr Deluxe. "I don't have any proof but this guitar was supposedly played by a guy who played with Bob Wills," says Restivo with a smile, though he later found some evidence online to support the claim.
'Where's Joe?' was recorded at Archer Record's Music+Arts Studio in Memphis, TN to analog tape with no overdubs.
Look out for tour dates and a hometown release show announcement shortly.
'Where's Joe?' Track List:
1. Bolivar's Blues (Thelonious Monk)
2. Where's Joe? (Joe Restivo)
3. Starlight Motel (Joe Restivo)
4. 633 Knock! (Bill Doggett, Bill Jennings)
5. I Hear A Rhapsody (D. Gasparre, George Fragos, J. Baker)
6. Tiny's Tempo (Lloyd Grimes, Clyde Hart)
7. Thelma (Joe Restivo)
8. A Few Questions (Joe Restivo)
9. House of the Rising Sun (traditional, arr. Joe Restivo)
10. People Make the World Go 'Round (Thomas Bell, Linda Creed)
For more information on Joe Restivo, please contact Nick Loss-Eaton at nick.losseaton@gmail.com or 718.541.1130.