RESTIVO CONFIRMS SYNDICATED RADIO SHOWS THACKER MOUNTAIN RADIO & 12TH STREET JUMP
Reviews are ecstatic for Memphis guitar master Joe Restivo's debut jazz album 'Where's Joe?' (Blue Barrel Records) as he has confirmed forthcoming tapings with two syndicated radio shows: the southern-focused Thacker Mountain Radio on September 19 and the jazz show 12th Street Jump on December 4.
"Starlight Motel" music video: https://www.youtube.com/watch?v=c7i_BYe45TE
Suggested airplay/playlist tracks: "Where's Joe," "A Few Questions," "Starlight Motel"
Here's what we're reading:
"Cream-of-the-crop Memphis guitarist."
– Matt Micucci, Jazziz, July 9, 2019
"4 stars (out of 5)… Timeless… fresh, vibrant interplay… a considerable feat worthy of placing this record on 'Best of 2019' lists."
– Doug Collette, All About Jazz, August 3, 2019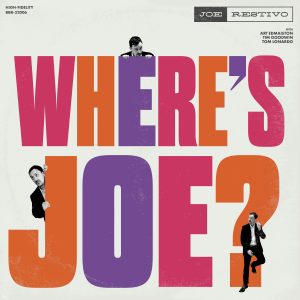 "He's establishing himself as one of Memphis' best jazz and blues guitarists, providing innovative interpretations of standard tunes and weaving traditional phrasings and notes into his own originals, even as he elevates those tunes into new standards."
– Henry Carrigan, No Depression Magazine, July 11, 2019
"Dazzling fretwork… studied but always soulful playing… catching lightning in a bottle… a batch of inventive originals."
– Bob Mehr, Memphis Commercial Appeal, July 26, 2019
"A dangerous bebop element with blues and rock 'n' roll mixed in, swinging, fun music, jazz for hipster cocktail parties… The nexus of Memphis jazz jump blues, rhythm & blues, and jazz, mostly driven by original compositions."
– Elmore Magazine, June 6, 2019
"Soulful… fresh, bluesy, country-tinged guitar."
– Lisa Nobumoto, Memphis Flyer, July 27, 2019
"His melodic sense is on full display."
– Chris McCoy, Memphis Flyer, July 22, 2019
"Joe is hanging out in that world where jazz and blues get lost in each other's soul… These four musicians sound like they have just released a Blue Note album produced by Alfred Lyons and engineered by Rudy Van Gelder back in the halcyon days of that label. To hear that here in the second decade of the new millennium is a real joy. Thanks Joe."
– Blues Junction, July, 2019
For more information, please go to https://nicklosseatonmedia.com/?page_id=4913 or contact Nick Loss-Eaton at nick.losseaton@gmail.com or 718.541.1130.