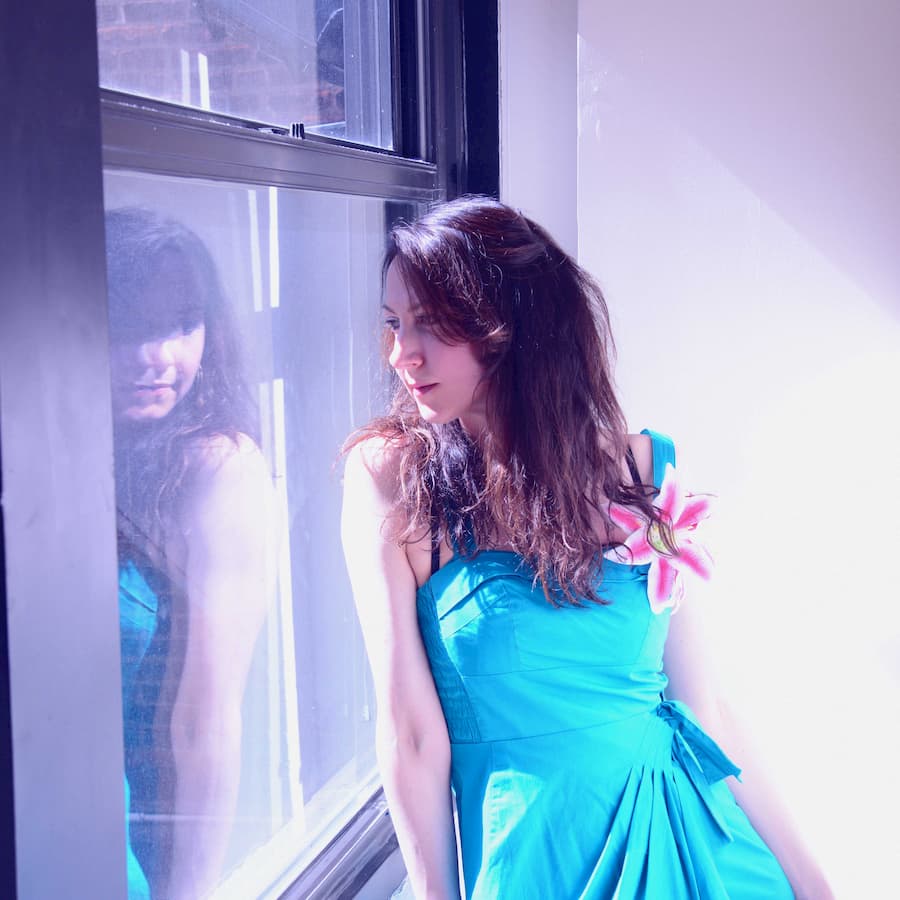 After four widely heralded self-released albums, Brooklyn-based singer/songwriter Jessie Kilguss is clearly on the verge of gaining the wider recognition she so decidedly deserves. Her mood-affecting melodies reflect an artist who consistently proves herself remarkably adept at expressing a wide array of interests and emotions that stir the senses through both her vocals and in her verse.
"I've always been a seeker on some mystic quest, driven by a deep unrest," Kilguss insists. Indeed, it's the mantra that guides her excellent new album, aptly titled The Fastness. The title, she says, refers to "a remote, mysterious, natural refuge" and indeed, that description could easily apply to the album itself. It's a body of work that explores the idea of travel and transition, and the new world and the old world through death and rebirth.
"Travel is one of my favorite things in life," Kilguss notes. "I've always found it very inspiring." It's not surprising then that she wrote several of the songs on tour in Europe singing harmony and playing harmonium in Freddie Stevenson's band, opening for Mike Scott and the Waterboys during the European leg of their Modern Blues tour. "The presence of those unfamiliar places we played is at the core of this album," she continues, "Seeing new countries, new cities and new places gave me a different perspective on life."
Produced, engineered and mixed by Joe Rogers, the man behind the boards for her highly acclaimed album Devastate Me, The Fastness features a crack session band that includes guitarist Kirk Schoenherr, bassist John Kengla, drummer Rob Heath, harmony singers and frequent collaborators Susan Hwang, Leslie Graves and Julie DeLano (members of the band Jim Andralis and the Syntonics, with whom she regularly performs and records), and Kilguss herself on vocals and harmonium.
In every sense then, The Fastness is a high-water mark for an artist whose many career highlights include a special performance at the prestigious Sundance Film Festival and about whom American Songwriter once wrote, "Jessie Kilguss is here to devastate you…Singing a bit like the great Sandy Denny…"…(Devastate Me) is a finely-wrought, deep, dark valentine of a record, that with luck, will lure listeners who still believe in the well-crafted song…"
Indeed The Fastness takes its time, allowing moods and images to steadily reveal themselves in ways both sensual and seductive. "This album has a more illuminating, and at times, more elusive feel to it than the last one," Kilguss muses. "I wanted to try something slightly different, and I'm happy with how it turned out. I think a lot can be accomplished with voices alone, so I was especially excited to add Susan, Leslie and Julie to the mix. We're used to blending our voices, so it was a pleasure to bring them into the studio. In fact, the addition of the other women's voices became one of my favorite elements of the album."
It's also evident at the outset that Kilguss called on some special inspiration for each song, while at the same time reflecting on evocative subjects and sentiments that were close to her heart.
"I was listening to Sandy Denny and Fairport Convention a lot when I wrote 'Dark Corners of Your Mind,'" she explains. "I was particularly inspired by their take on the very old folk song, 'Reynardine.' I was holed up in Ireland and trading songs back and forth with my playwright/musician friend, Hywel John, who was in Wales at the time. The title of the album, The Fastness, also came out of this time and place. Secluded in a beautiful natural setting, I found it really useful when it came to being creative and productive. It was the openness of space, sea and sky around me in Ireland that really made an emphatic impression on me."
The song "Hell Creek" has a backstory of its own and it finds Kilguss' harmonium coming to the fore. "I wrote it in 2013," she recalls." It was inspired by the character named Cathy in John Steinbeck's novel East of Eden. She's the evil one who burns her house down, with her family inside, in the middle of the night. I was also reading Truman Capote's In Cold Blood, and that also figured into the song. There's that line in the book, something like 'I liked him well enough until the moment when I slit his throat.' Plus, I'm a big fan of Nick Cave, and I was aiming to write a murder ballad in his realm. For the record, Hell Creek is an actual place, as I discovered when I read an article in the New York Times about a dinosaur hunter who, at the turn of the century, who found a Tyrannosaurus Rex skeleton there. It all enhanced that extra layer of mystery and creepiness."
"Edge of Something" has a surreal quality of its own that Kilguss attributes to Joe Rogers' input as producer, as well as those of the musicians. "I like the expansiveness of this song," she explains. "It used to be much poppier and I didn't really like it as much before. Now it feels more like big open skies to me."
Kilguss ability to express herself has always been a major part of her MO, one evident in her earlier albums — Nocturnal Drifter (2009), The Sky Road (2012) and the aforementioned Devastate Me (2014), which The Huffington Post described as "arresting," and which Americana UK declared as "…a record to draw solace from, to be comforted by…"
"I don't really know where the muse comes from," Kilguss says. "It can be elusive at times, but I know my rhythms at this point. Sometimes I have to just wait it out til it comes back, rather than trying to force out new songs that don't want to come. Everyone's creative process is different.
I find books to be inspiring and I read a lot and am also especially interested in Buddhist thought, life's mysteries, the things we don't understand, Carl Jung's Red Book, Runes… as well as film, photography, seeing new places, meeting new people, and embracing change… "
Nevertheless, she's always been a conduit for creativity. She got her start in acting, appearing alongside Daniel Day-Lewis in The Crucible and later, after completely acting studies in Britain, performing in a touring production of As You Like It directed by Royal Shakespeare Company founder Sir Peter Hall. Her switch to songwriting began after she was privileged to perform with one of her musical heroes, Marianne Faithfull, in a production of The Black Rider, a musical written by Tom Waits and William Burroughs and directed by Robert Wilson, in both London, England and Sydney, Australia.
She turned to songwriting and making music she says, because they were a way to take creative control.
Those efforts don't stop there. Kilguss is a frequent contributor, creative advisor and occasional co-producer of the Bushwick Book Club, a monthly performance series based around books and public performances. For the book club, she's co-producing and performing in two shows this spring, inspired by Jonathan Ames' new book, You Were Never Really Here. In 2017, she co-hosted (with founder, Susan Hwang) a show at City Winery, inspired by Chimamanda Ngozi Adichi's Americanah, an official event of the Mayor's One Book, One New York initiative.
She's also the Development Director of Musicambia, a non-profit that brings music learning and ensemble performance to prisons throughout the United States.