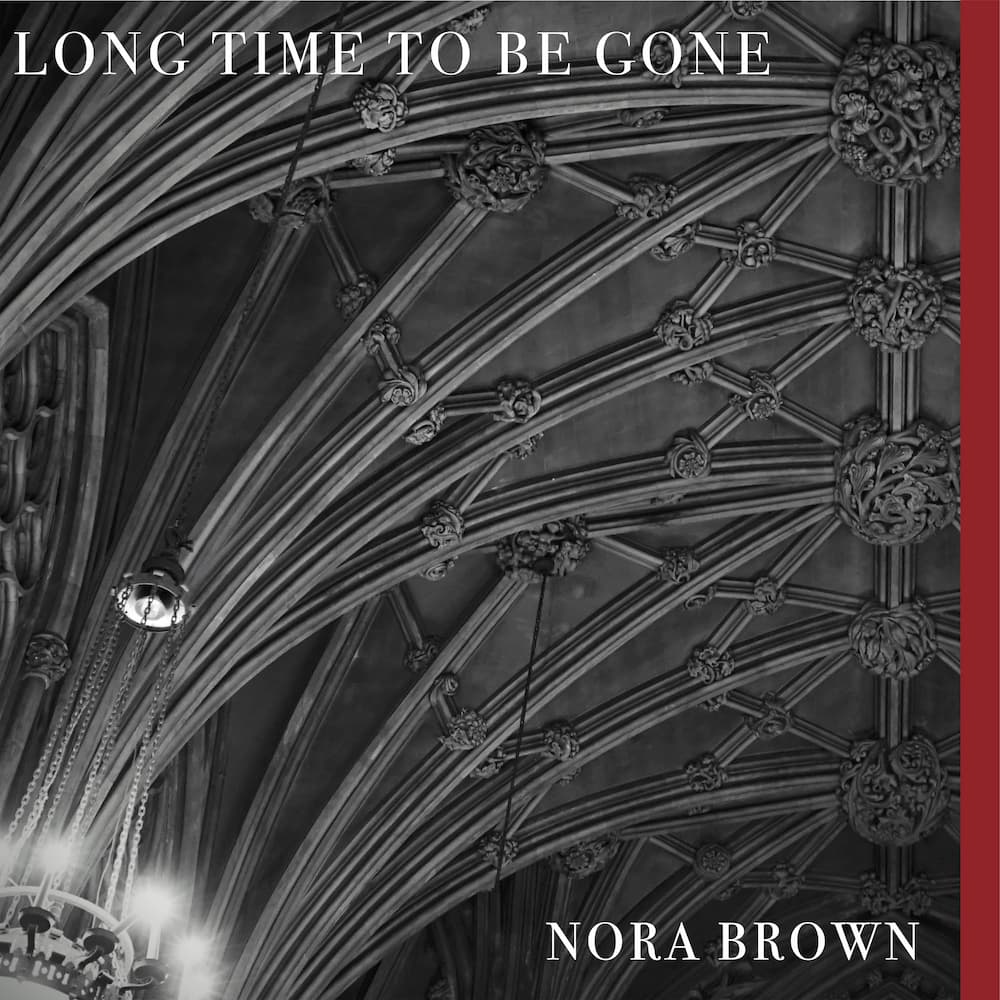 Nora Brown, Long Time To Be Gone
Out: August 26, 2022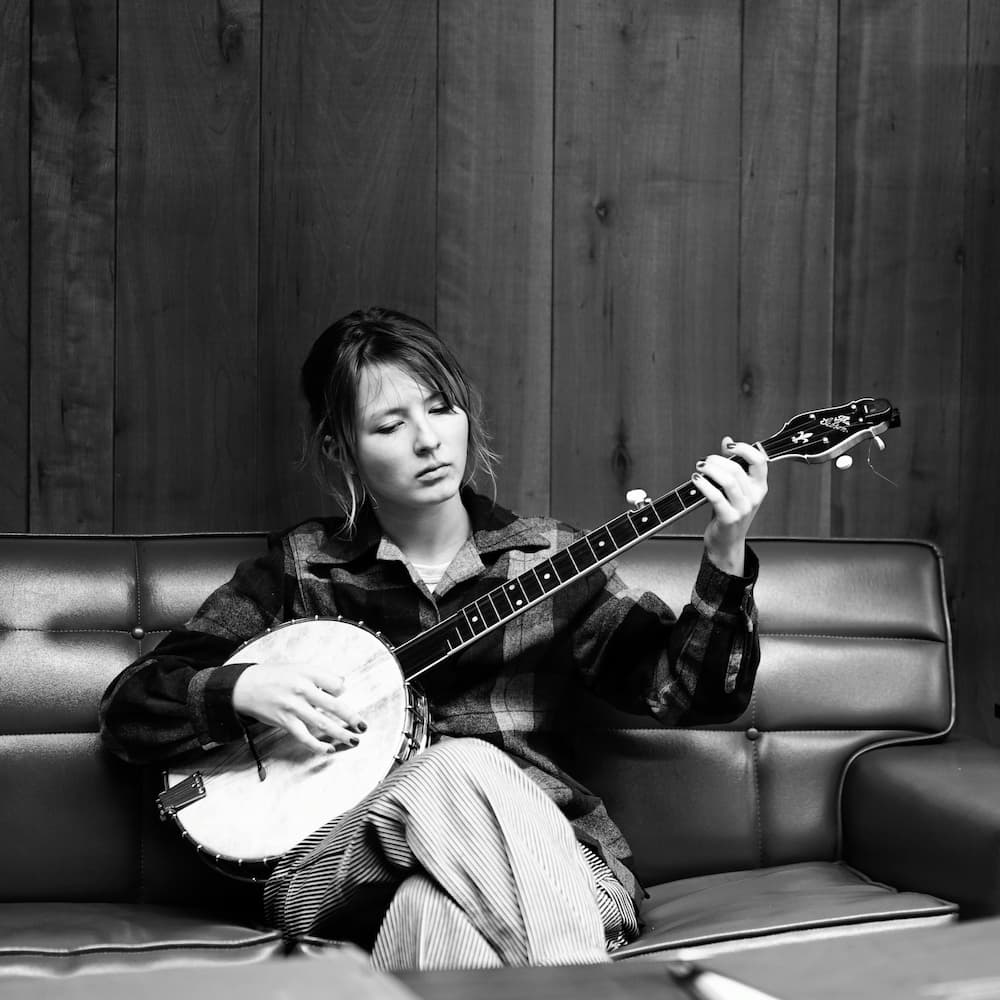 Stream Long Time To Be Gone
Nora Brown, "Little Satchel (Live)"
Nora Brown, "Cumberland Gap"
Live at the Paste Studio
November 12, 2021
NPR Tiny Desk Concert
Nora Brown
Nora Brown – Long Time To Be Gone
Nora plays old-time traditional music with a particular interest in eastern Kentucky and Tennessee banjo playing. Along with the banjo and guitar she also sings traditional unaccompanied ballads from southeast Appalachia and beyond.
She has played at numerous venues and festivals including TED Salon in NYC, NPR Tiny Desk, Joe's Pub, the Floyd Radio Show, Brooklyn Folk Festival, Oldtone Roots Music Festival, Irvington Folk Festival, Blue Ox Festival in WI, Mountain Song Festival in NC, and has had multiple month long residencies at famed Barbès in Brooklyn NY. She has been featured in a variety of podcasts including WNYC's Dolly Parton's America along with NPR's Weekend Edition and All Songs Considered and Apple Music has placed her on the American Best Songs, New In Acoustic.
Nora teaches both in person and online banjo classes and workshops. She has taught at the Ashokan Center's long standing old-time camp known as Southern Week in Olivebridge, NY, and currently teaches workshops through the Handmade Music School in Floyd, VA. and the Jalopy School of Music in Brooklyn, NY. Nora continues to travel and learn from old masters and has taken regular trips to Eastern Kentucky studying under the late master banjo player and former coal miner Lee Sexton and master banjo player and historian George Gibson.
Nora has won numerous banjo and folk song competitions at various fiddler's conventions including the Clifftop Appalachian String Band Music Festival and Grayson County Old-time and Bluegrass Fiddlers Convention.
In September 2021 Jalopy Records released Nora's 2nd album called Sidetrack My Engine recorded in an underground cellar and pressed by United Record Pressing in Nashville. The album is only available on limited edition 10" white vinyl and digital formats. Sidetrack My Engine landed #6 on the Billboard Bluegrass Charts the 1st week of its release.
"Extraordinary" (NPR Music) "Rising Star" (NPR Weekend Edition)
"Some of the most interesting and haunting traditional music we've heard… impossibly talented… One thing that I really loved about both your albums is that both your banjo technique and your vocals are amazing. You seem to be mining these old songs with emotions far beyond your years."
–Jason Verlinde, Fretboard Journal, September, 2021
"Sidetrack My Engine is both a reverent nod to deeply-rooted ole-time traditions, and an exhibit of sonic heirlooms carefully amended to meet a modern moment with vintage elegance."
–Madeline Crone, American Songwriter, September 25, 2021
"[In her playing,] an intense involvement is revealed as the music appears to wash over her. She sings of experiences way beyond her years, old songs from Appalachian sources, stories that reflect a more difficult way of life."
–John Cohen (Musicologist, photographer, filmmaker and founding member of the New Lost City Ramblers)
"[In Nora's playing] this fretless version of the banjo, more in tune with its African ancestry, allows a seamless glissando, a spirited game of snakes and ladders, doggedly climbing and then slipping easily back to the start."
–Richard Hollingum, UK Folk Radio, January 3, 2021
Liner Notes – Long Time To Be Gone – By Nora Brown
I recorded my last project in an underground tunnel: this complemented some tunes, but not all- specifically, quiet, solo banjo ones. This record is a sort of second take on the ones that didn't make the last project, becoming a compilation of some of my favorite solo banjo tunes, often instrumental. I have to say the "sacred" tune-to-song ratio is a tad off, but I think that's what's kinda cool about this collection of tracks. It feels less tailored and more like a real sample of my favorite things to play.
A little bit about the space:
This was recorded above ground in the historic Saint Ann's church in Brooklyn, NY. This cavernous space is the home to the Brooklyn folk festival, which I've been attending and participating in almost since I started playing traditional music. In recording this project, we experimented with the sound that different locations in the church produced, mics were configured around the room. On a lot of the tracks you can hear the expanse of the space pretty clearly.
Within this tradition, the learning of music is as important as the playing. In other words, the music that I play is always changing. The tunes on here are a sort of sample of what I was up to in May 2021.
Banjos:
Snake Head Banjo (aka Standard):
This is a Gibson banjo, easily recognized by its snake head shaped headstock. The pot of the instrument is original from a 1920's TB-4 tenor four string banjo. A new 5 string neck was expertly fassioned by Will Seeders of Seeders instruments. I use this banjo most often.
Fretless (Tack Head):
This banjo was made in 2019 by my father, under the instruction of banjo maker Pete Ross, at the Augusta Heritage Center in Elkins, WV. Its' tack head, nylon strings and lack of frets mimic a pre-civil war structure, echoing the sounds of those ancestral banjos.
Grandfather Banjo:
I got a hold of this banjo in 2020 for my 15th birthday. My Great Uncle Allen in Atlanta, GA. had discovered it in storage and identified it as belonging to my Great, Great Grandfather. I don't know much about this banjo, if he played it or maybe someone else did. I do know that he lived in East Nashville in 1916 in time for the famous devastating fire which burned his house down. The banjo is an 1888 Ludscomb, so if it was bought new, there's a good chance it could have been around during the fire, but it's hard to know. After obtaining this instrument, we stretched a new skin and strung it up with nylon strings.
Roscoe/Cohen Banjo:
This banjo belonged to John Cohen: a member of the New Lost City Ramblers, ethnomusicologist, photographer, and film maker. John spent a lot of time recording artists around Appalachia including Roscoe Halcomb, a banjo player and singer from Daisy, KY. The Ramblers often brought Roscoe on tour, who usually did not bring his own banjo. John had this one around, which Roscoe often performed and recorded on, including the famous High Lonesome Sound album. When I'd go up to visit John, I'd always ask to play the "Roscoe Banjo". Just before the pandemic, I aquired it to play it at the 2020 Brooklyn Folk Festival which was canceled. I ended up holding onto it for a while after and delivered it to the Library of Congress in April of 2022.
SIDE A
Jenny Put the Kettle On:
Tuning: eCGCD – On Recording: cFCFG
Banjo: Grandfather's
This is a Virgil Anderson tune, played in the up-picking style. The song is traced back to the British Isles, and is a fairly common tune across Appalachia, sometimes with slight name changes. I first "learned" it from Joseph Decosimo while teaching banjo at the Ashokan camp. We were doing the thing where one person does the left hand and the other does the right. I was the right hand. This was the tune.
Miners Dream:
Tuning: f#F#ABD
Banjo: Standard
This is a really pretty tune I got from Virgil Anderson (got a couple of his on here!) Learned it off his album On the Tennessee Line over that 2020 time while we were in a real covid "lock down" of sorts. I think this is one of the most perfect song/ title fits. Gots a bit of a dreamy quality in this unique tuning.
Bertie Mae's Chilly Winds:
Tuning: fDGCD – On Recording: a#GCFC
Banjo: Grandfather's
I first discovered this tune off of a Brad Leftwich and the Humdingers CD Rise and Bloom Again. The tune sounds a little like Red Rocking Chair and others, but the tuning gives it a different air. Brad plays it really nicely in the two finger style, and creates some really cool sounds alternating the strings that get pinched with the fifth (a little banjoy there). Learning this tune I think actually really helped me develop the way I play two finger. Brad told me about his experience visiting Bertie May Dickens who was an older woman when she was first "discovered". He said she was a small lady and kept her banjo under the bed- her husband would have to get it out for her and set it on her lap. Little stories like this put the music in context while connecting you closer to the song.
Southern Texas:
Tuning: f#DGAD
Banjo: Standard
This is a tune I learned from George Gibson on one of my visits to him in Knott County. I've learned a lot of tunes from George, but this has gotta be one of my favorites. There are lots of tunes that come from the eastern KY region that talk of Mexico, Texas/ out west, that result from traveling to those places for work, returning and writing about experiences. This tune stems from the ballad Texas Rangers.
The French Waltz:
Tuning: gA#FA#D
Banjo:Standard
I got this tune from the playing of Clyde Troxel, a banjo player from Monticello KY. He played a lot of music with his brother Ralph and lived within close proximity to Clyde Davenport and Virgil Anderson all on the KY-TN line. Actually, Virgil was married to Maybell Troxell, Clyde and Ralph's sister. I learned this off a field recorder's collective DVD of the troxel brothers. Watching him play this song is just so amazing. I don't even know what his right hand is doing (often the case with a lot of E-KY banjoists) . It's close to up-picking but he brushes downwards and his pointer finger does this tickly thing. I play this up-picking, which gets the same rhythmic vibe but I'd really like to figure out what he's doing. This is such a fun tune to play but I rarely perform it because it's sort of inconvenient to tune the banjo just to play this one song. It's a really beautiful song and I think it has a bit of a similar vibe to Miners dream. They are both sort of tough but delicate and have that really beautiful melody.
Cumberland Gap:
Tuning: fDGCD – On Recording: a#GCFG
Banjo: Fretless
I learned this version of this classic tune a bit from John Haywood of Whitesburg KY, and some from Lee Sexton Of Linefork KY. This is a tune where a little style switching is needed for the right hand. On the high part of the tune, much of it is played on the first string causing a need to switch from the thumb-lead two-finger style, to finger-lead. This tune is easily played in the clawhammer style, so Lee's preference for the two-finger style may have caused this funky switch.
Shortnin Bread:
Tuning: f#DF#AD
Banjo: Standard
I learned this tune from George Gibson on his porch in Knott County, KY. Pretty cool version of this classic tune.
Will Davenports Tune:
Tuning: fDGCD
Banjo: Standard
This is one of my favorite tunes I play- it has a simple melody but has a very elaborate sound. I really enjoy songs like that, another one would be The Very Day I'm Gone. First heard this from Joseph Decosimo but it's a Clyde Davenport tune (FYI, there's a video of him playing it on YouTube under the title "Unknown Banjo Tune") this version is pretty different from the video, but it's the same tune.
SIDE B
Wild Goose Chase:
Tuning: f#DEAD
Banjo: Standard
This is a Virgil Anderson tune, and one of my favorites to play. Virgil Anderson developed a lot of his style of banjo playing from blues musicians living in his area including Cuje and Coony Bertram, who I've read were actually old time musicians as well, but were encouraged to play blues because of the race record market. You can hear a little bit of their influence in this tune. This is a pretty common piece in Virgil's region- on the liner notes of his record On the Tennessee Line, he said that he first heard it as a teenager at a logging camp.
Coal Creek March:
Tuning:f#Df#AD
Banjo: Standard
I learned this tune from Eli Smith, but this version originates from Roscoe Halcomb of Daisy KY. There are many songs by this title; the Coal Creek mine had a number of significant events occur in terms of labor history and mining disasters. In 1891, miners rebelled against convict labor- a historic rebellion sometimes referred to as the Coal Creek War. After doing a bit of research, I found that the use of state prisons began in 1891, which was clearly swiftly followed by the leasing of prisoners by the state in penal labor the same year. In response to this, miners went on strike setting fire to prisons and mining property as well as releasing large numbers of convicts from bondage. I can definitely understand why there are so many tunes with this name.
Little Satchel:
Tuning: fDGCF
Banjo: Standard
This is a tune I learned from both Fred Cockerham off the album High Atmosphere and also from the playing of Riley Baugus. I first listened to High Atmosphere on a visit to the album's creator, John Cohen, up in Putnam Valley NY, but only got around to learning it more recently. I often break my first string when I tune to this one, so I've been a bit scared away from playing it live. Fred's playing and singing on this song is just incredible, especially the little rhythmic pattern he plays continuously throughout the song.
Wade's Tune:
Tuning: f#DEAD
Banjo: Standard
This is a tune I learned from Mac Traynham of Floyd, VA. When I first learned the tune from Mac, he told me that what we were about to learn was the "real Half Shaved". This claim intrigued me and he followed it telling me how either Wade or the folks who recorded him made a mistake on the album labeling the tune "Lost Indian": Half Shaved and vice versa. I called Mac before writing this to gain a better understanding of this kinda gray area, and he told me about a student from the UK named Peter Parish who spent some time with Wade. Parish recorded the tune that I play here under the name "Half Shaved". In teaching Parish, Mac believes Wade realized his mistake. He later recorded the tune under the edited title. On the phone, Mac tells me that he could see why Wade might have mixed up the two tunes. "Both have this lonesome feeling," Mac says.
The tunes title "Half Shaved" was originally followed by the n-word. Putting this track on the record creates difficult questions: How exactly do we separate the art from the artist when the art itself can symbolize the artist's ideals? Can we even give beautiful songs with offensive titles and lyrics new lives? What does it mean to change these words? Does it give a song new life or does it just cover up its past? Changing words can't change the context that these songs were played in.
However, the truth is, despite the context of these songs, they hold emotion and stories worth keeping around. I think the only way to play old time music is to talk about and acknowledge the racism that surrounds almost every piece of music. It is not only the ones that have offensive titles but the music itself. We must understand that many of the people that have kept this tradition alive were racists, however they were not the only ones that created these songs and fostered the growth of this tradition.
All that being said, I'm calling the tune "Wade's Tune" to give it a bit of a new life but at the same time acknowledging its history.
Coke Oven March:
Tuning:f#Df#AD
Banjo: Standard
This is a tune from Dock Boggs of Norton VA. FYI- A coke oven is a sort of furnace that cooks coal down to create coke, which is a fuel used in steel production. I learned this tune from a recording, without the visual context of the fretting. After watching others play the tune. I realized that I play it in a pretty inconvenient manner, reaching all around the fret board for notes. I've tried playing it the more effective and simpler way, but always end up going back to the way I first learned it. There's that old fashioned folk process for ya.
Po' Black Sheep:
Tuning: gDGBD – On Recording: cGCEG
Banjo: Fretless
I learned this song from a recording of Nathan Frazier and Frank Patterson, an incredible banjo-fiddle duo. In 1942, Both living in Nashville, they were recruited to record some music for Recording Black Artists. This was a compilation album put together by John Work, a professor at Fisk University. Known for their musical chemistry and tight sound, I've learned many of their versions of tunes off the album. This is a fun one to play with a fiddler, but think it sounds pretty cool solo, on the fretless.
Flowery Girls:
Tuning:gDGBD
Banjo: Standard
This is an Omer Forster tune. Omer was from Middle Tennessee, near McEwen county. He had a pretty unique style and technique; he did a lot of this awesome tinkly stuff solo but also played banjo in a band format. On the liner notes of Omer's album Flowery Girls, omer credits the tune to Walter Warden, an old fiddler from his area, saying it's one of his favorites to play.
Little Birdie – Rye Whisky
Tuning: eCGCD
Banjo: Roscoe
I learned this Rye Whisky from Lee Sexton on one of my earlier visits to his home in Linefork, KY. This is a really delicate tune that I'm sure he got from his uncle Morgan Sexton (also an incredible banjo player). I follow Rye Whisky here with Roscoe Halcomb's classic version of Little Birdie. I don't know many tunes in this tuning, but these two happen to fit well together. I play the first tune in the two finger style and the next one up picking.