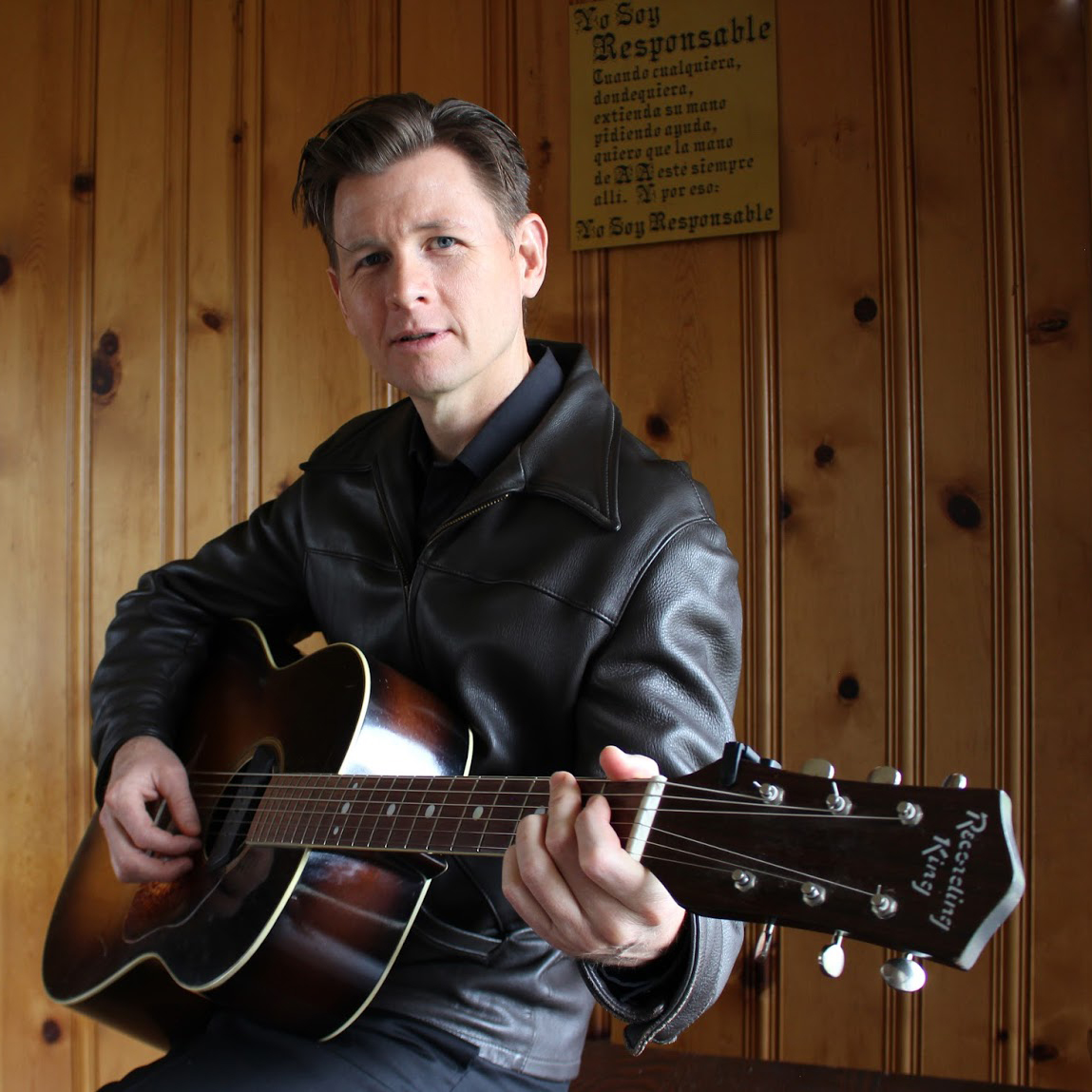 Jake La Botz's story seems entirely too cinematic to be true – a film with shades of Merle Haggard and Tom Waits and Charles Bukowski and Mark Twain and Sid Vicious and David "Honeyboy" Edwards and Jim Jarmusch and Boxcar Bertha and Jack Kerouac all wrapped into one. And all of these experiences play into his new album 'Sunnyside,' out May 12 on Hi Style Records, a record that shows that his imagistic songwriting, storytelling range, and recounting of his experiences are just as deep as the aforementioned list of greats.
A juvenile delinquent in the early '80s discovering punk music and drifting. A high school dropout who works odd jobs. A subways and street busker taken under the wing of grizzled, wise bluesmen in Chicago. Avid reader who charts a self-education in a public library while falling under the spell of music, tattoos, sunshine, cheap motels, and drug addiction in southern California. Film actor. Gospel musician in all-black church. Buddhist. Meditation teacher. Then, through innumerable gigs with his Chet Baker looks and his large-bodied guitar, he finds friends and admirers in J.D. McPherson and a whole new crop of Americana musicians in his new abode in Nashville. This is Jake La Botz's true story.
Prologue: A young La Botz sitting on the floor, listening to his grandfather Jinx Putnam, who grew up in Wyoming to a father who was a homesteader and a gambler. Jinx had been a bootlegger during prohibition, hobo'd during the Great Depression, and had worked on boats, served in World War II, and been to Cuba and Alaska and Australia. La Botz says, "He was strange but well read, a country throwback, not at all connected to the modern world." La Botz was transfixed and enchanted. "Jinx was an incredible storyteller. All my life, I just wanted to be around old guys with great stories." he adds. The stage is set.
Roll title credits.
Scene: a 15-year old boy in Chicago makes friend with an older kid at a local punk show. La Botz recounts, "Amongst the criminal types, there were artistic people. My friend did criminal activities as a type of performance art." The two steal a car and drive to Detroit. Another time, they drive cross-country in another stolen car, sleeping at hobo camps, hanging at punk venues. La Botz recalls, "The punk rock community was my refuge. If you had a weird haircut and a leather jacket, you fit in there." They make it as far as Denver.
Scene: La Botz back home, drops out of school, starts working odd jobs in Chicago, roofing, writing obits, and driving medi-cars. A fan of reggae and punk music, he checks out blues at Maxwell Street Market and connects with elder bluesmen like Maxwell Street Jimmy Davis. "Until then, the blues was the feeling I had but not yet the soundtrack," he says. As a teen, La Botz sneaks into a Chicago bar to see David "Honeyboy" Edwards, the Delta bluesman who played with Robert Jr. Lockwood and Robert Johnson and recorded a side for Alan Lomax before settling in Chicago. "By 16 or 17, I knew that I wanted to play music," he says.
Scene: La Botz in his early 20s, in Maxwell Street Jimmy Davis' projects apartment, both drinking heavily. La Botz befriends Honeyboy and Homesick James (a relative of Elmore James) as well, gleaning what he can of their wisdom and guitar licks. Meanwhile, Honeyboy always carried a gun. La Botz says, "I learned some of their guitar techniques and other gimmicks through osmosis, on an unconscious level. I would watch their hands every time they played. Davis learned guitar from John Lee Hooker and they played in a gospel group together. He played on Maxwell Street regularly. He used to be in the Rabbit Foot Minstrels and danced on broken glass in a grass skirt. I learned a lot from him about how to perform."
"Honeyboy was one of the greatest storytellers of all time," he says, citing the oral history book The World Don't Owe Me Nothin'. He continues, "He completely brings you in and makes you a part of the story. He's a really welcoming person. He would also request old Delta blues songs for me to play on guitar for him. We became very close." Shooting the shit and working with these men offered another connection to his hometown of Chicago as well. "The blues is an African-American art form and also an American art form. It's part of our collective unconsciousness. Part of the landscape here. And it can take us to another world," he says.
Scene: La Botz tries his hand at the game he learns from the bluesmen, opening shows for them and playing on the street and in the subway. "I felt like a subterranean creature, some kind of rodent," he says, recalling two years of playing blues and gospel during both rush hours on Chicago subway platforms as well as in San Francisco, New Orleans, and at the King Biscuit Blues Festival in Helena, AR. "In the subway, there's a new audience every five minutes! I would sometimes find one person and focus on them and then the rest of the crowd would follow in behind that person' energy," he exclaims. He finds the cultural plurality of busking rewarding, connecting to all walks of people as well as a training ground on how to sing from your heart in a public space. He recounts these experiences in the new song "For Nickel and Dimes" with its chorus, "Pouring out your soul for nickels and dimes."
Scene: the late '80s, La Botz moves to LA, into the American Hotel downtown, has a drink at iconic punk dive Al's Bar. These experiences inspired one of the highlights of the new album, the vivid "Hotel." "They say write what you know," he laughs, continuing, "Well, that's a place to start. I shot dope with a guy at the hotel whose girlfriend was turning tricks to support his habit. My neighbor was just out of prison. There may have been one or two artists floating about." He spent a year and a half living there. He started a performing residency at the hotel bar, playing every Friday from 5pm to 7pm during the "Unhappy Hour," in exchange for a free room. "Trees In Cali" offers another perspective on addiction and "Hard To Love What You Kill" portrays a man seemingly on the verge of suicide.
Scene: Underground again, this time in a basement library in downtown LA. La Botz pours over books about hoboing such as "You Can't Win" and "Boxcar Bertha." Through over 100 degrees out, it is cool in the library on one of the three underground floors.
Montage: La Botz performing his songs nationwide on an annual tour of tattoo parlors, which he has done by now eight years. "It started out of necessity," La Botz explains. He began playing in Gil Monty's shop in the late '90s, then known as a hangout for hair metal bands. "I was drawn to tattoo parlors because of an artistic camaraderie. Tattoo artists, like musicians, are itinerant people… maybe because they can be," he says. The shows themselves are often unique. "I never know what I'm getting into," he laughs, describing everything from playing for one-percenter bike clubs to art-school dropouts.
He revels in tattoos as both initiation and ritual. Of La Botz's many tattoos, his first was done with a sewing needle as a young teen. "It's a part of the world of mysticism, a dark art, using images that relate back to mythology. It's ancient civilization stuff."
Scene: a different kind of needle, back in a grungy hotel room.
Cut to: La Botz talking with a fan after a show about his close to two decades of sobriety. "You never know who you might help out," he says of these interactions.
Scene: La Botz on the red carpet of a film premiere. This year, La Botz made his first title role in a film appropriately titled The Grace of Jake. He says, "The Grace of Jake was written with me in mind. I was playing guitar in an African-American Baptist church in south central Los Angeles and I was the only white member. The director had just moved to LA from the Arkansas Delta and he started writing a movie script that was a link to home for him. The character is a mixture of me and something back in Arkansas."
"Acting is great work if you can get it," he smiles. His friend Steve Buscemi had previously written a part in the film Animal Factory specifically for him and he appeared in Buscemi's infamous "Blues Hammer" scene of Ghost World. Beyond that he's had roles as divergent as playing a hillbilly-satan character called "the Shape" in the Stephen King/John Mellencamp/T-Bone Burnett stage musical Ghost Brothers of Darkland County and a lead role as a mercenary in Stallone's last Rambo movie.
Scene: La Botz opening for McPherson. To him, blues and gospel are a jumping off point for his music on 'Sunnyside,' as a foundation for the stories he tells in his own music and for his own, individual brand of Americana music.
"Hobo" recalls his kinship with Jinx and also his admiration for a new generation of kids who are willing to live life outside of the expectations of others, to embrace the possibilities and prices of freedom. He also uses the term metaphorically for the freedom that he's found through meditation practice.
With the refrain, "Can you cry like you want to?," repeated, the song "Sunnyside" asks fundamental questions about the divergence of greed with peace of mind. "People striving for happiness through getting what they want is somewhat questionable. Who's doing the wanting?" These themes also show up in the humorous "Inflatable Duck."
Ultimately, for La Botz, all of his own seeking has led him to a position where gratitude for his life and expressions allows him contentment. He talks about the deep ties between meditation and creativity, "To be human is to be creative, to explore who we are. Seeing stories all around us unfolding, expressing that. I want to be open to the source." 'Sunnyside' finds him drinking from the wellspring.