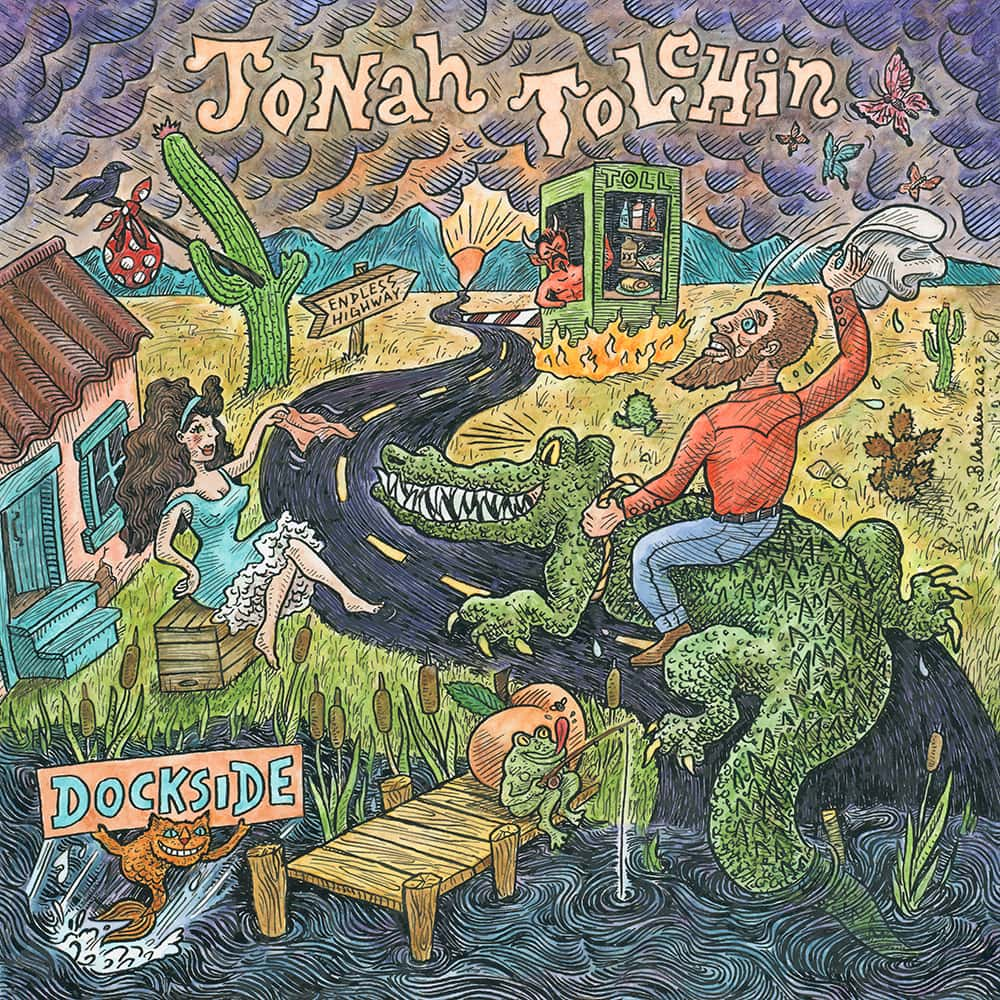 Jonah Tolchin, Dockside
Release TBA 2023
Jonah Tolchin, "Blues With A Feeling"
Jonah Tolchin, "Suffering Well"
Jonah Tolchin, "Save Me (From Myself)"
Jonah Tolchin grew up listening to blues and American roots music. His father ran a record store in the Mississippi Delta before he was born, and Tolchin soaked in the music from cassettes, vinyl records, and CD's. "I've always wanted to make a blues focused record, but it didn't feel right until now… Once I was ready I knew we needed to go down south–to Dockside".
Tolchin's new album "Dockside" was co-produced by Luther Dickinson (North Mississippi Allstars) and Tolchin at the Dockside Studios in Maurice, Louisiana. The album features Tolchin on lead guitar, harmonica and vocals, Dickinson on rhythm guitar and clavinet, Terence Higgins on drums (Warren Haynes), and Nic Coolidge on bass. Guests include Chris Joyner (Ben Harper), Carey Frank (Tedeschi Trucks) and Chavonne Stewart (Jackson Browne).
Born and raised in central New Jersey, Tolchin began his career as a DIY artist, hitting the road as a teenager and self-releasing his own music until signing with Yep Roc Records for his critically acclaimed 2014 label debut, Clover Lane. Recorded in Nashville with a slew of special guests including Los Lobos' Steve Berlin and Deer Tick's John McCauley, the album prompted Uncut to rave that Tolchin "demonstrates the finesse and maturity of someone like Jason Isbell" and NPR to proclaim him "a promising new artist who artfully occupies the gulf between old-school tradition and contemporary appropriation."
Tolchin followed it up in 2016 with the similarly well-received Thousand Mile Night, which racked up more than 12 million streams on Spotify with its title track alone, and 2019's Fires for the Cold, a bittersweet meditation on loss and redemption that featured appearances by Jackson Browne, Rickie Lee Jones, and Sara Watkins. In 2022 Tolchin released a completely different feel with "Lava Lamp", inspired by more of his indie rock/rock influences. Along the way, Tolchin toured the US and Europe extensively, sharing bills with the likes of Watchhouse (Mandolin Orange), Chuck Prophet, Gregg Allman, Chris Smither, Dave and Phil Alvin, and Tony Joe White, etc. His music has also been reviewed by: Uncut, Mojo, Rolling Stone, Guitar Player, NPR, Pop Matters, American Songwriter, Elmore, Glide, No Depression, etc.
Tolchin's forthcoming album "Dockside" will be released through his new company "Clover Music Group" in 2023, and distributed worldwide by The Orchard, with film/tv representation by Michael Fey at Shoot The Noise.