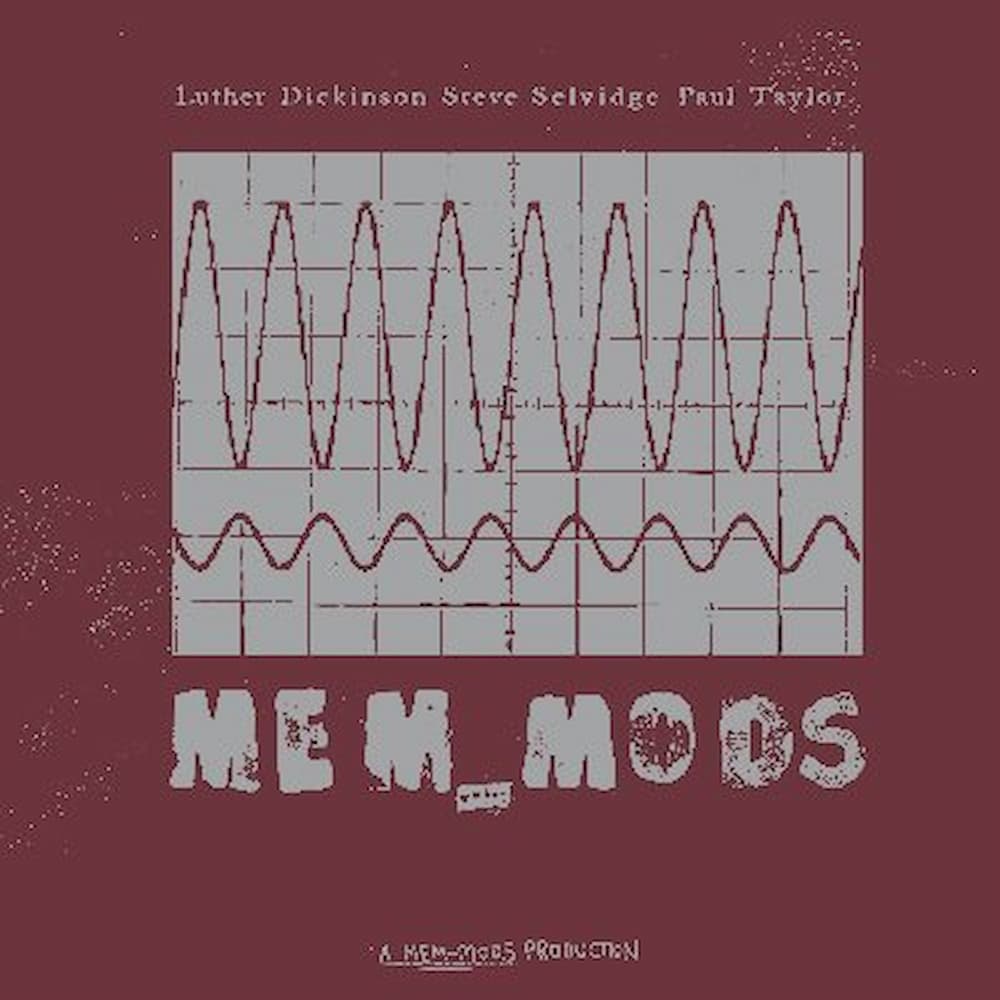 MEM_MODS, Volume 1
Out February 24, 2023 on Peabody Records
Stream MEM_MODS, Volume 1
"Not every root sprouts a straight stem, and these Memphis mofos tangle it all up on MEM MODS. Burrowing toward a sound somewhere between Al Green's backing vocalists and a John Cassavetes soundtrack, the boys get downright funky, showing how far from the tree the vine can bloom."
–Robert Gordon, author and filmmaker (Memphis, TN 2022)
What happens when you take three seasoned touring musicians off the road? It sounds like the set-up for a bad joke, but when Paul Taylor, Steve Selvidge, and Luther Dickinson, and were sidelined by the COVID-19 pandemic, they created MEM MODS, a musical exercise that quickly yielded a masterful self-titled debut album, MEM MODS Vol. 1, which will be released on Peabody Records on February 24, 2023. An utterly freeform survey of instrumental music, and a clarion call for the future of recording, MEM MODS Vol. 1 unfurls from the speakers like a reimagined Quincy Jones score screwed and chopped with Isaac Hayes' landmark Shaft soundtrack. That is, if the core Stax unit was backed up by Sly Stone and the Beastie Boys, and John Shaft had been plucked from the streets of Harlem and dropped into the animation panels for Fantastic Planet.
The album's opener, "Capricorn Catastrophe," draws on equal parts Jean Michel Jarre and Booker T. & the MGs. Like Jarre's breakthrough album Oxygene, surreal sounds bounce and bubble. However, the horn work and propulsive, emotive guitar hooks are innately Memphis. This is music for now – a buoyantly imaginative refutation of the reality of life as we know it. The cool, lean sounds on "Three on a Tree" ripple like free jazz streaks shot through with smooth melody. Conversely, "Feather's on a House Cat" percolates like an R. Crumb comic set into motion. "Harmolodica" joyously conjures up a mental image of Money Mark, Charles Stepney, and Augustus Pablo staggering and stuttering through outer space, while "Preservation Blues" unwinds like a bluesy, atmospheric epigram composed by Moondog and performed at half-speed over a layer of shuffling syncopation. "Knotty Pine Kitchen" slows the roll with a warm meditation on Memphis music history that could be integrated into any film score. It's precise and passionate–a difficult balance for even the best players, yet MEM MODS effortlessly pull it off.
That film score feeling seeps through the album's second half. "Midtown Communication," "Sonoma Smashup," and the pulsing "Horn Lake Hookup" take off like cinematic chase scenes, with the musical maneuvers intuitively shifting into high speed pursuit. Stops on the chase would, of course, have to include the Antenna Club, Beale Street's New Daisy Theater, and skateboard shop Cheapskates, all mythic hangouts for Dickinson, Selvidge, and Taylor, who share a tangled family tree: they have all made music together in the North Mississippi Allstars, and Taylor has also subbed in as the bassist for Selvidge's Big Ass Truck. Meanwhile, Dickinson and Selvidge co-lead Sons of Mudboy, the second generation of Mudboy and the Neutrons, the venerable Memphis band founded by their fathers, James Luther Dickinson and Sid Selvidge.
Add in stints with Tommy Stinson, the Black Crowes, and Seasick Steve, and the branches grow heavier.
"This record sounds like our youth in Midtown Memphis," Dickinson says. "We have been playing music together in different scenarios since we were teenagers, but we have never made an instrumental record together until now."
Selvidge echoes that sentiment: "We are three people who grew up together who had dads who played music together, and we'd jam together here or there or play on each other's albums, but we'd never made a conscious effort to make a record together. It took isolation for us to create together like this."
"We have a lifetime of making music together," Taylor confirms, "starting off with these spasmodic jam sessions as teenagers who listened to everything from the Beastie Boys to obscure jazz records we'd find in Jim Dickinson's collection. This record is the music we'd hoped we were making–it just took 30 years to finally fulfill our teenage fantasies!"
MEM MODS could've only happened during the pandemic. Before lockdown, Taylor, Selvidge, and Dickinson were logging hundreds of gigs a year–separately. Tour dates for their respective bands–North Mississippi Allstars for Dickinson; for Selvidge, the Hold Steady; and for Taylor, countless solo and sideman gigs from Chuck Prophet to Eric Gales in addition to releasing records under his nom de plume New Memphis Colorways–were put on ice, and for the first time in decades, the three found themselves at home with nothing but time on their hands.
Home was relative–while all three grew up in Memphis, only Selvidge remains. Nearly a decade ago, Dickinson decamped east to Nashville, and more recently, Taylor moved some 800 miles north to Sister Bay, Wisconsin. The tracks for MEM MODS Vol. 1 were built part by part on each musician's Digital Audio Workstation, then shared via Dropbox. Then Taylor, Selvidge, and Dickinson would discuss their progress using Marco Polo, a video messaging app.
As DIckinson puts it, "This project began with bass lines on my Hofner bass and noises on my Korg micro synth. I sent the tracks to Paul and then we sent them to Steve, and the lockdown Marco Polo musical marathon began. I loved enjoying what my friends played on their guitars while concentrating on synth and bass myself."
"We quickly created a production team," Selvidge says. "I'd get a track from Luther asking me to put some guitar on it, or I'd get a click track and a bass line from Paul. I'd react to it by plugging in my guitar and winging it, and eventually, we brought in Marc Franklin and Art Edmaiston on horns."
At the start of lockdown, Taylor had purchased a tajon–a variation on the cajón that functions much more like a traditional drum set with a snare and bass drum heads–which, he says, "provides a weird, dry, vintage, yet futuristic sound" on the album. "It's a very unique contraption that fulfilled a sound in my head that I've been looking for my entire life," he says. "I used it as we organically riffed off each other. I'd put in a drum beat and say, 'hey, somebody add a bass line.' It's a very democratic record in that all three of us shared responsibilities. And it's a record we never could've made in the same room together, because the dynamic gave us the freedom to really collaborate and play to each other's strengths. I see MEM MODS as the crowning jewel in our 30-plus-year long friendships."
Taking another cue from the previous generation, Selvidge is relaunching his dad's label, Peabody Records, with MEM MODS' debut release. "I mixed it myself, and, against my better judgment, I'm going to put it out," he jokes. Founded soon before Sid's pivotal 1976 blues-folk album Cold of the Morning, Peabody was also the label behind the likes of Cybil Shepherd's late-1970s musical foray, Vanilla, Alex Chilton's seminal Like Flies on Sherbert, sought-after rarities by the late Gimmer Nicholson and the local folk conglomerate Crawpatch, and Big Ass Truck's penultimate release, 1998's Who Let You in Here?.
The addition of MEM MODS Vol. 1 to the Peabody catalog sweetens the label's reputation as a safehouse for the more eclectic side of Memphis music, while adding entirely fresh sounds to the mix.
In addition to a vinyl-only physical release on February 24, 2023, MEM MODS Vol. 1 will be available on all streaming services. For more information, visit Peabody Records.