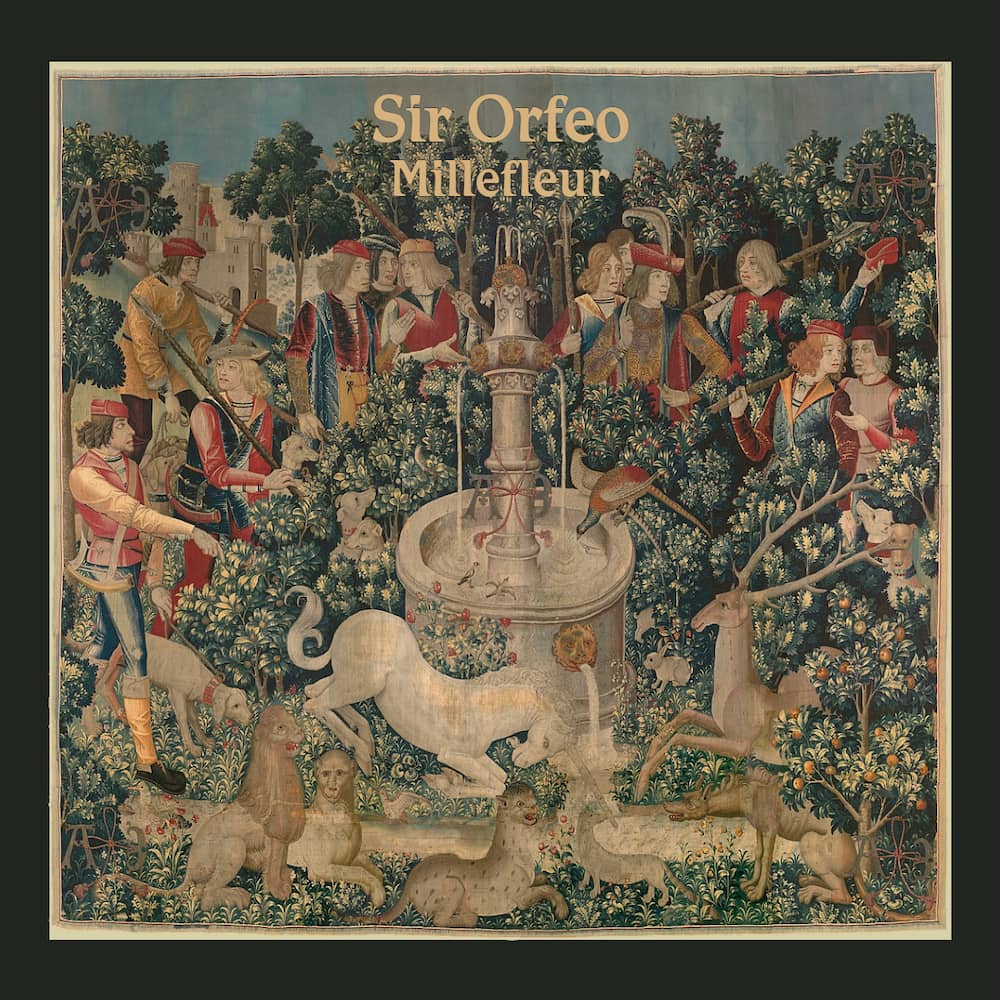 Coming June 25!
Sir Orfeo | Millefleur
Sir Orfeo – Millefleur
Be it on the lush song-poems of his 2020 debut Wild Raspberries, the folk-tinged fingerstyle excursions of 2017's Good News and Rosie (both under the name Max Wareham), or his contributions as songwriter and co-producer of the cult classic Cousin Moon (Sleeper Cave Records, 2017), Sir Orfeo's work is invariably gentle and arresting, strolling the strange borderlands of chamber-folk, Symbolist images, and ambient minimalism.
Sir Orfeo's latest release, Millefleur (2021), expands Wild Raspberries' placid puddles into a reflective, supernaturally still lagoon. By turns earthy and vaporous, Millefleur ranges across epic interior realms, from the Gothic flying buttresses of opener 'Prayer' to the empyrean finale 'Jericho.' (Millefleur — "thousand flowers" — is a style of Medieval tapestry wherein organic, patternless seas of small flowers and plants form the work's background, as though the entire image is growing in grass.)
The songs sound like the thaw of springtime in which they were written. "I was reading lots of magical realism, decorating my internal worlds as a way of finding meaning," he says, recollecting the isolation of the pandemic in the hills of Western Massachusetts. The songs were begun on an old cassette tape machine and then digitized for the mysterious and largely nocturnal process of overdubs, arranging, and mixing in Wareham's home studio, before receiving final mixing and mastering from NYC dream-team Ian Hersey (Carefree Studios) and Rich Morales (Super Fine Audio) respectively.
Millefleur carries on the homespun, cassette-tape creakings of Sir Orfeo's previous releases — folk records, for the most part, fired by the passion of a disciple. But if these earlier collections captured a man moving slowly and comfortably through the attic of tradition, Millefleur is the sound of him stumbling upon a treasure trove of new toys. In particular, there's an increasingly masterful finesse of digital recording's crystalline perfection; reverbs and delays expand into infinite halls of mirrors, while Koji Kondo-esque flourishes on plastic keyboards firmly ground this music in half-lit childhood afternoons: static on the screen, toadstools along a mossy nook, a sparse canopy over which sneak forbidding clouds, briar roses weaving in the mist.