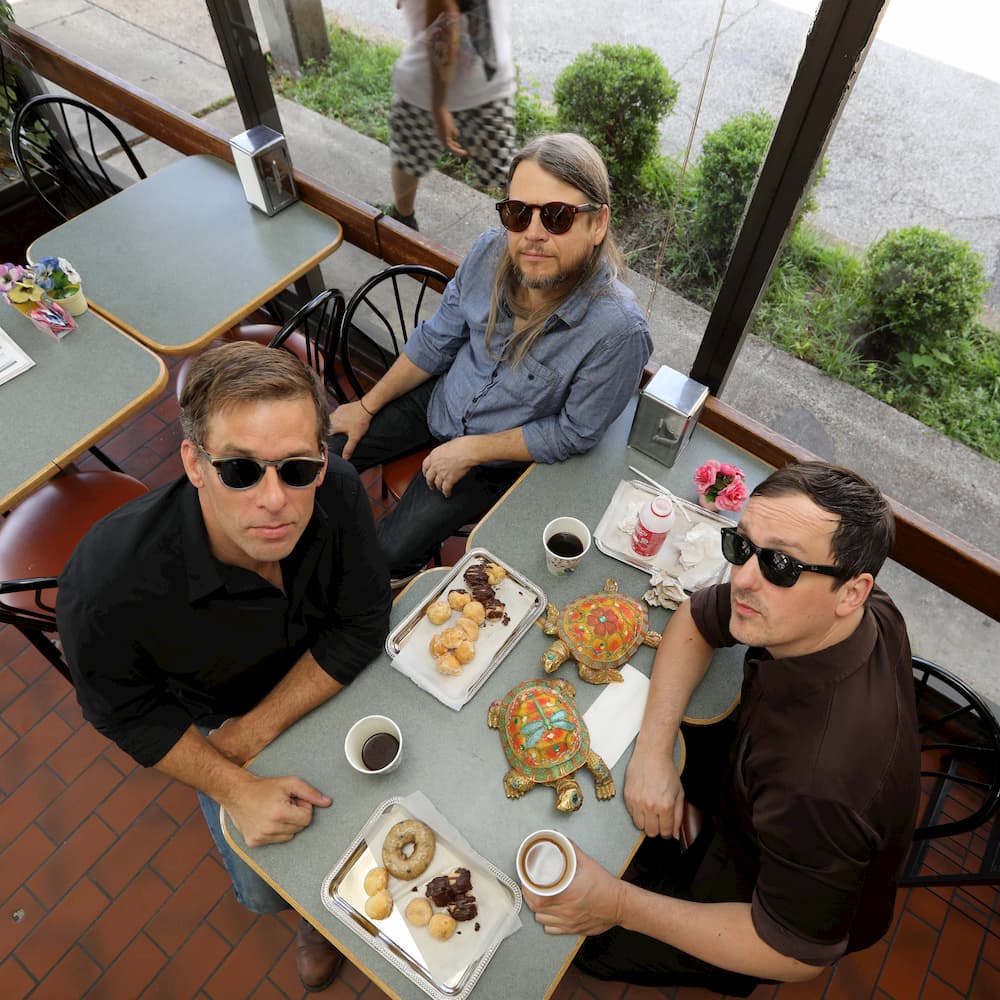 Luna 68
Date TBA | Big Legal Mess
The City Champs
Photo Credit: Jamie Harmon
"Luna '68"  |  The City Champs
The City Champs – Luna 68 Marks the Return of Memphis' Premiere Instrumental Trio
Shuffle a deck of cards backward from this century, one year per card, and you'll wind up in a time of clean lines and sounds sublime. That's the terrain The City Champs inhabit completely in the funky, futuristic jams of Luna '68, their new album on Big Legal Mess Records. The trio, known for their stomping Memphis take on boogaloo soul jazz, has taken a quantum leap, oscillating between orbital heights and the funky Mississippi mud as they go. Of course, at the heart of it is the chemistry they have shared since the band formed 14 years ago.
Though the band enjoyed a loyal Memphis following for more than a decade, shows were sometimes few and far between, as these three virtuosos have toured with other groups. Organist Al Gamble's regular gig is with Birmingham, AL-based St. Paul & the Broken Bones; drummer George Sluppick has toured with such groups as J.J. Grey & Mofro and the Chris Robinson Brotherhood; and guitarist Joe Restivo is a member of the Bo-Keys, often backing soul legends like Don Bryant or Percy Wiggins.
Now, with all three back in town, the stars have aligned for The City Champs' return. And, like old friends who resume their last conversation from years before, the three have picked up where they left off, at the top of their game. "We all develop as musicians in other scenarios," Restivo said. "So, when we come back, and we haven't played together in a while, everybody brings some of that flavor into this project."
While reaching beyond the predictable has always been part of the group's DNA, Luna '68 reveals a band breaking free with a greater cinematic touch than before, and a wilder sonic palette. As Sluppick notes, "Any of the traditionalists who say, 'That's not traditional soul jazz!' Well, we have never been a traditional soul jazz band. Even though we leaned farther into that than anything else, we've always had our own voice." 

From the beginning, they could conjure up classic Blue Note organ trio grooves with aplomb, staying true to the form, embracing the use of only guitar, drums and an organist with full command of the bass pedals. This center of gravity has always encouraged flights of invention within limits, and that's what The City Champs built their reputation on. It quickly earned them on-screen moments in MTV's $5 Cover, the Emmy-winning documentary I Am A Man: From Memphis, A Lesson in Life and the music performance film Take Me To The River, which also featured Mavis Staples, Snoop Dogg, Bobby "Blue" Bland, and William Bell.
All three are deeply grounded in Memphis sounds. Sluppick often has the most ideas about arrangements. He says it comes from "playing a million gigs with my dad [a guitarist] as a kid on Beale Street, figuring out how to structure a night of music for people. You don't necessarily have to hit 'em over the head right away."
Gamble grew up playing the family piano near Muscle Shoals, AL, with his younger brother on drums. But even in college, "I really wasn't pursuing music at all," he said. "I was an international relations major with a Spanish minor. Then full-time Army after graduation." In a sudden change of heart, Gamble committed himself to music, moved to Memphis and was soon a fixture on Beale Street. When his brother moved there as well, they formed the Gamble Brothers Band, releasing three albums and packing houses.
While Restivo had played some gigs with Gamble in the '90s, it wasn't until he left Memphis that he became ready for what would become the Champs. "George and Al were working way younger than me," By the time he returned in 2005, with a degree in jazz from The New School in New York, he had become one of Memphis's most respected guitarists. In addition to his work with the Bo-Keys, and sessions scoring Dolemite Is My Name, he currently evokes Steve Cropper with a Booker T. & the MGs tribute band, the MDs, and leads his own jazz quartet, the Joe Restivo Four. Last year, his skills earned him a feature in Vintage Guitar magazine.
While the first two albums were founded on the players' love of the soul jazz sound, the Champs' debut album, The Safecracker, incorporated other ideas, including inventive versions of "Ol' Man River" and Amy Winehouse's "Love Is a Losing Game." Their 2010 sophomore release, The Set-Up, further expanded their palette, adding horns, Latin percussion, and a cameo from Motown legend Jack Ashford on percussion.
A decade later, the trio has taken that spirit into a new orbital plane. It's partly due to Restivo's love of soundtracks. "I'm real into Piero Umiliani. He's an Italian film composer, and the stuff he did in the late '60s and early '70s had a futuristic sound to it." The band takes such left-field influences in stride. "I'm like the baby of the band," says Restivo, "and they'll put up with my bullshit. I'll bring in original stuff and they're like, 'Yeah, let's try it!' Al and George are just really open to working on things. George is great at arranging. And Al is an amazing writer in his own right."
Mixed with Gamble's classic organ work is a heavier, distorted approach marking tracks like "Freddy King For Now." And, in keeping with the late-'60s aesthetic, there's even a taste of synthesizer, pronounced on the title track and "Voyage to Vega." "It's kind of a new thing for me," Gamble said. "I was never really a synth guy but over the last few years with St. Paul and the Broken Bones, there's been some synth added."
As with all new directions taken by The City Champs, such sounds are handled with a tasteful restraint. In that sense, they are perfectly paired with Delta-Sonic Sound studio's vintage vibe, where producer/engineer Bruce Watson champions the art before technology controlled the typical recording process.
Ultimately, they always return to the essentials: organ, guitar and drums. Says Restivo, "All three of us were interested in musicians that can really play. Like your classic studio musicians, the Funk Brothers or the Swampers or the Stax crew, or the Wrecking Crew. Those musicians we've always loved. Here's an instrument. Plug it in. Can you make music with it? I'm in the old school. I like beautiful voice leading and beautiful melodies and beautiful harmonic textures."
Now, with Luna '68, The City Champs prove they have a full payload of all that, with space enough to bring both the bedrock Memphis funk and the eerie harmonies of tomorrow.
https://www.joerestivomusic.com/