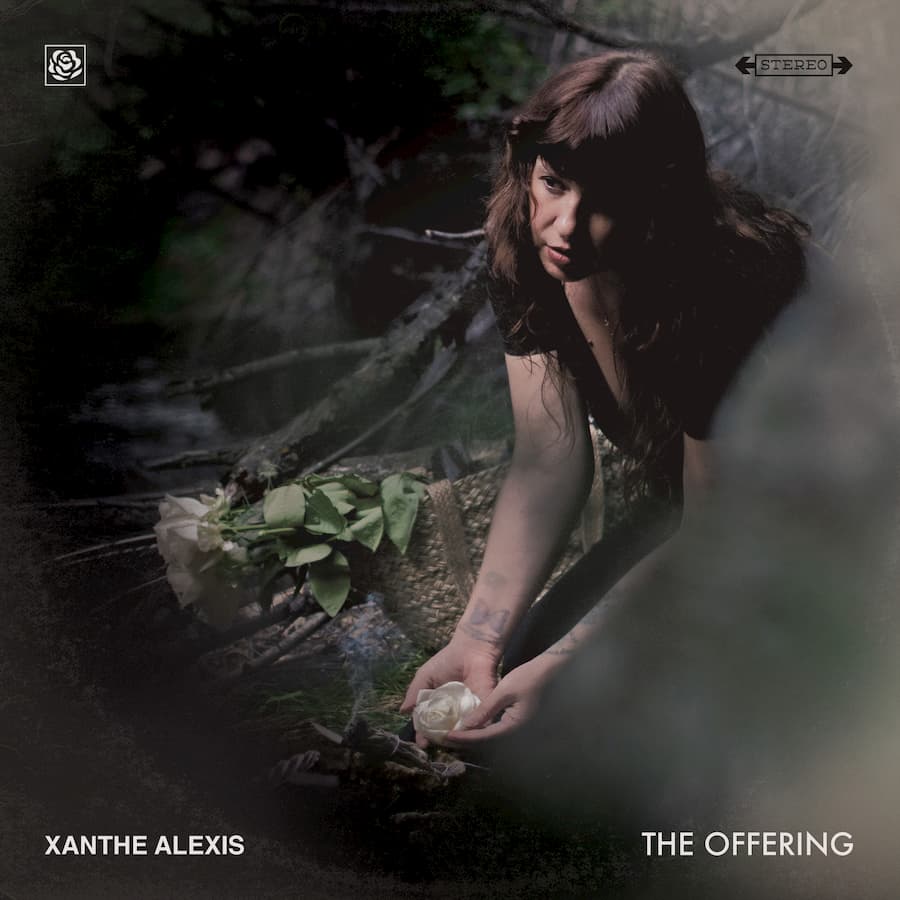 The Offering
Summer 2020 | 
Photo Credit:
Inaiah Lujan
Xanthe Alexis
"Moon" – Official Video
Like so many of her songwriting sisters and brothers in a year of lockdown, Xanthe Alexis has been awaiting the summer day she can give her second album, The Offering, to a revolutionizing world. The accomplished Colorado musician was just breaking into the national scene as the world shifted under our feet in early 2020. Her experience as both a trauma therapist and a single mother of two allowed her to weather the subsequent storm with unusual grace. Even from lockdown, Alexis has offered friends and fans daily affirmations of power and hope on social media – commodities that are rare in these times of vindictive language.
The passionate and strident tracks on The Offering reflect her wise responses to this new world shorn of pretense and masquerade. Her writing on the album also springs from the aftermath of heartbreak so the music functions both to heal others after hard-won lessons in moving forward herself. She sings, "It's going to leave you hungry, kisses just like medicine, there and then gone again, here inside The Offering, tell me what you need."
Alexis has noticed a distinct change in what her fans want from songwriters. In the almost four years since the 2016 election, she witnessed a need for a more authentic voice within the confounding politics and more passion in equal doses. Songs like "Siren" are meant to acknowledge anxiety while bringing a soothing hope for those living in fear. Alexis has found herself reflecting on her own newfound sobriety and writing about her journey towards healing. The songs are personally vulnerable and bring a broader context to living bravely, during fearful times. The recording sessions for The Offering began in 2019 under the tutelage of Conor Bourgal, founder of Colorado Springs group Changing Colors, and a proficient sound engineer. He worked closely with Alexis to accentuate what really mattered in these songs and to develop an indie-folk sound that draws as much from indie rock drum styles as from acoustic guitars, but always hangs back to let her stunning voice take the fore.
Alexis is unmistakable for her powerful voice and enchanting lyrics. The singular aura of magic surrounding her is a reflection, in equal measure, of her birth in the Superstition Mountains in Mesa, Arizona. Her childhood was steeped in the mysticism of blended cultures and gave her a passion and sensitivity for the unseen world of Spirit. She also experienced the effects of being treated as an "other" in America. Finding her own voice in activism, at the peaceful protests for Water Protection at Standing Rock, in her work as a Natural Healer in her community and now, in the ongoing movement for racial justice. Her Mother introduced her to the likes of Linda Ronstadt, Joni Mitchell and Ella Fitzgerald at an early age, and she began writing songs just before her beloved sister died of heart disease. This gave Xanthe an additional window into the depth of pain and the need for a language in which we can speak the expanse of human emotion.
Alexis gained a following first as a protégé of Barry Wedgle, an associate of Harry Belefonte, who taught her the nuances of Jazz vocals. Her exposure broadened as a tour partner of Americana singer Ashley Raines. She later formed the duo The Hopeful Heroines with experimental violinist and vocalist Harriet Landrum. Alexis's breakthrough as a solo artist began with the release of her first album Time of War, which remained in the top twenty of the national Alternative Folk list for six months. The album also won a best of 2017 award from Roots Music Report. What followed the sudden national recognition was a two-year whirlwind of train-based tours of the Southwest, a residency in New York, and a showcase at the Americana music festival in Nashville. After years of traditional touring by vehicle, Xanthe longed for a more intimate way to experience her travels and abandoned touring by car all together and adopted touring by Amtrak and the local transits of the cities she performed in. In the summer of 2019, after years of performing in New York, she realized a life long dream of an extended experience of the city, earning a three week residency at live and work space The Mothership NYC, where she immersed herself in writing and taking in the expansive artist energy that is alive in the vibrant soul of New York.
Alexis is a passionate nurturing force. She continues to work with her mother at their healing center in Colorado Springs, and is assisting her teenage sons through the challenges of a global lockdown. In her work with somatic trauma resolution, she helps others facing substance abuse challenges and navigate grief in all its forms. The Offering is her gift of healing in the form of song meant for these times as guide and soothing Light, a gift she's given herself as well with The Offering.
"I won't leave you lonely, I could not stand the heavy weight of that hand."