Bible & Tire Recording Company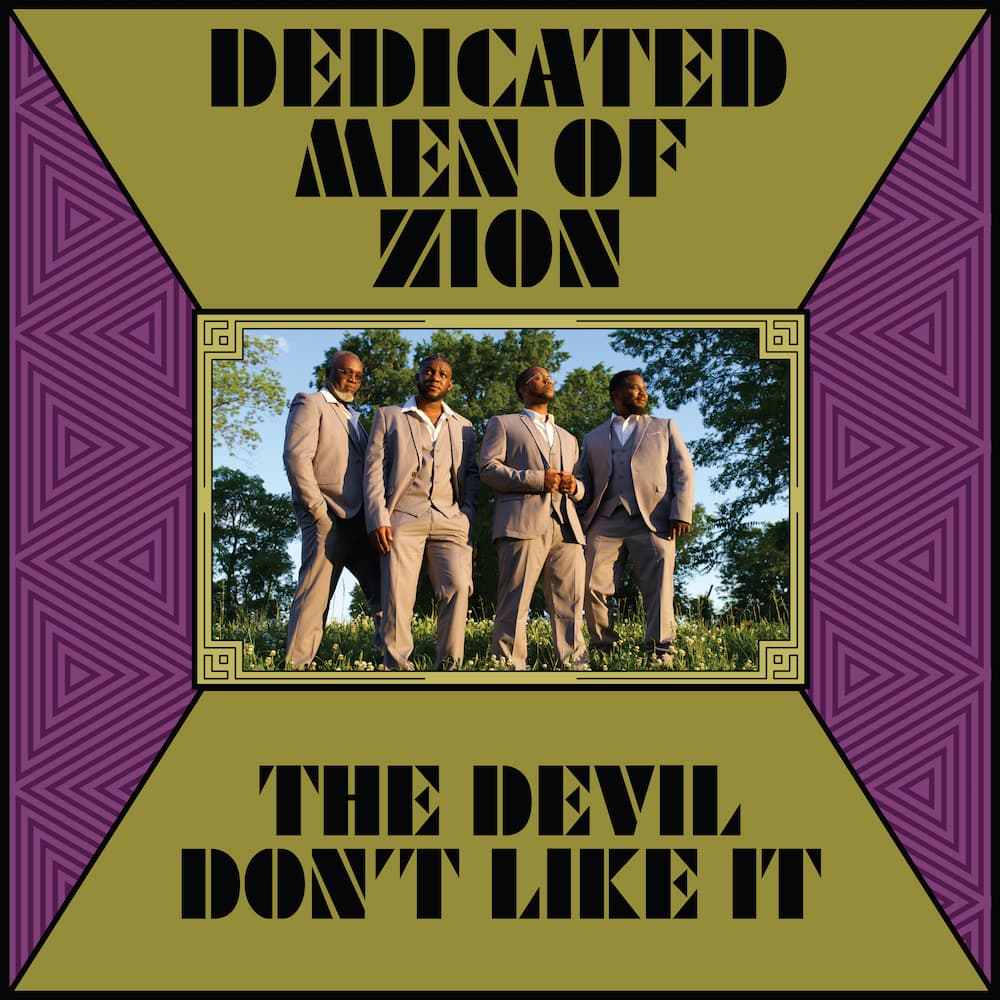 Dedicated Men of Zion, The Devil Don't Like It
3.4.22 (Bible & Tire Recording Company)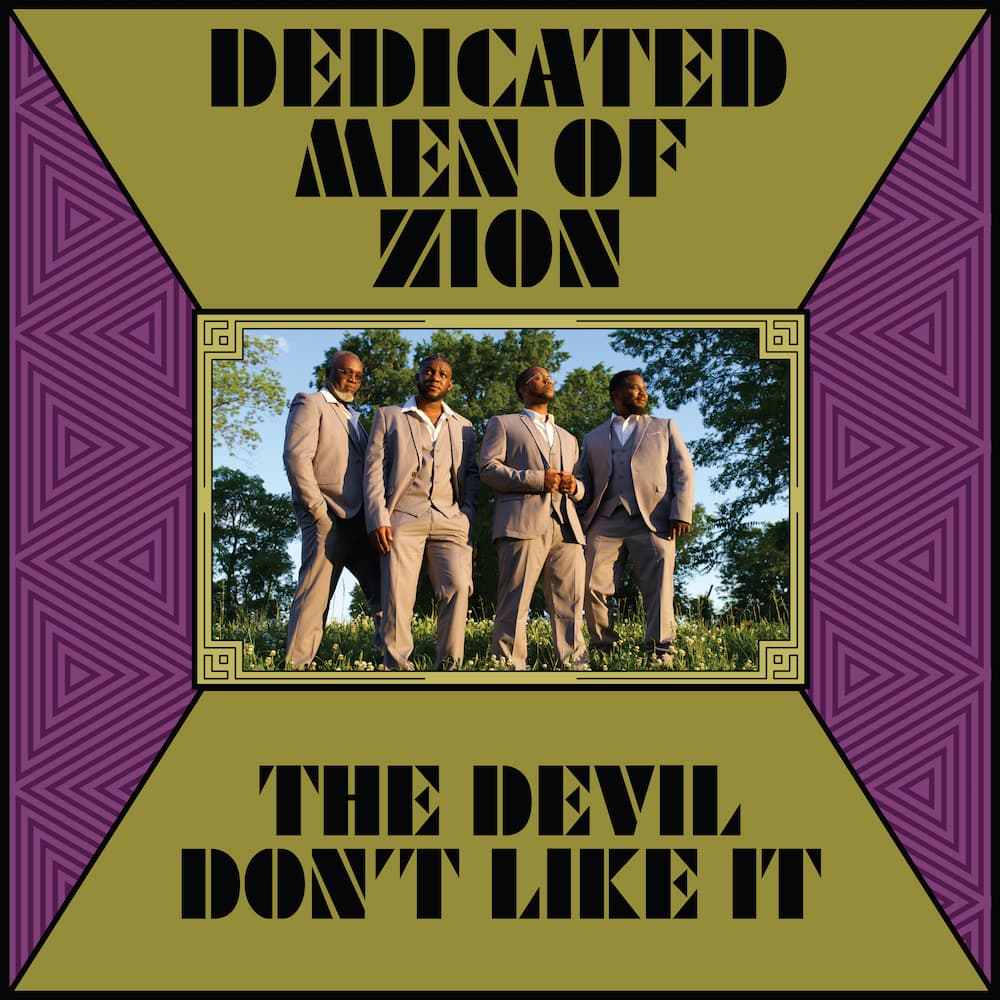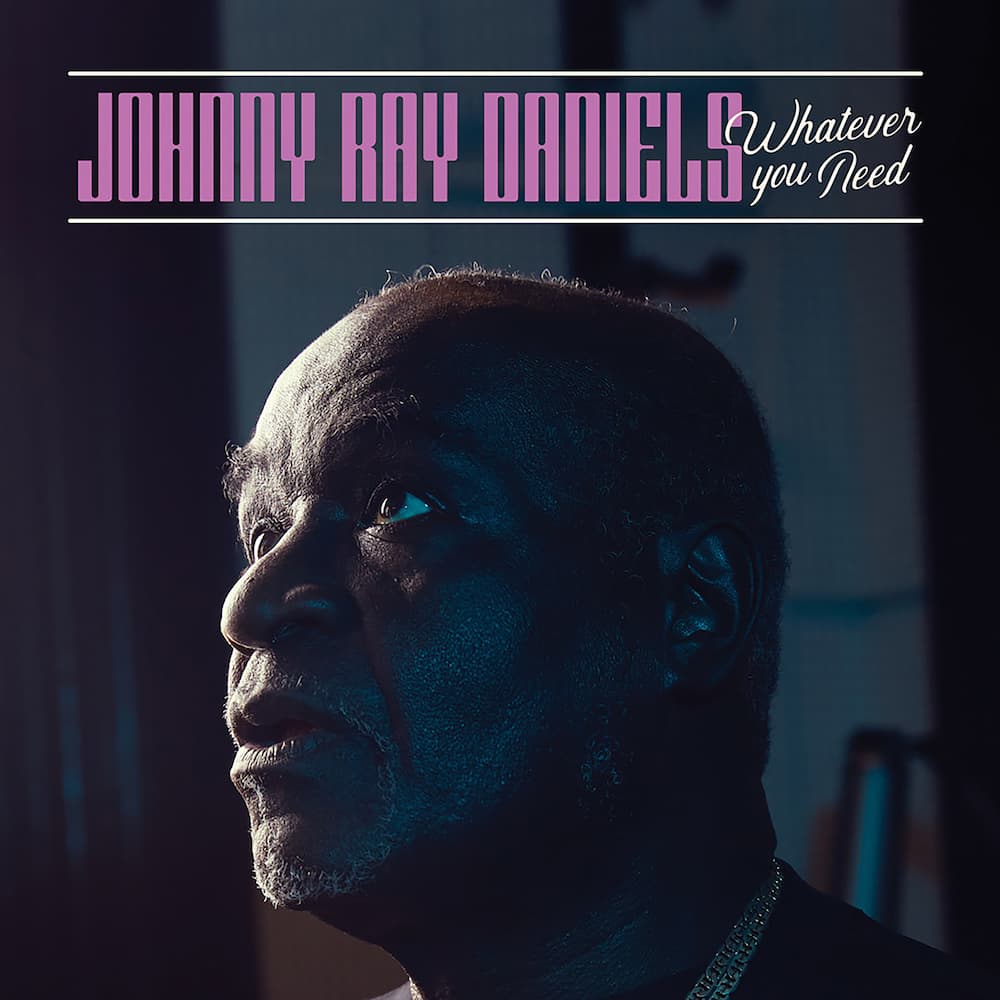 Johnny Ray Daniels, Whatever You Need
4.15.22 (Bible & Tire Recording Company)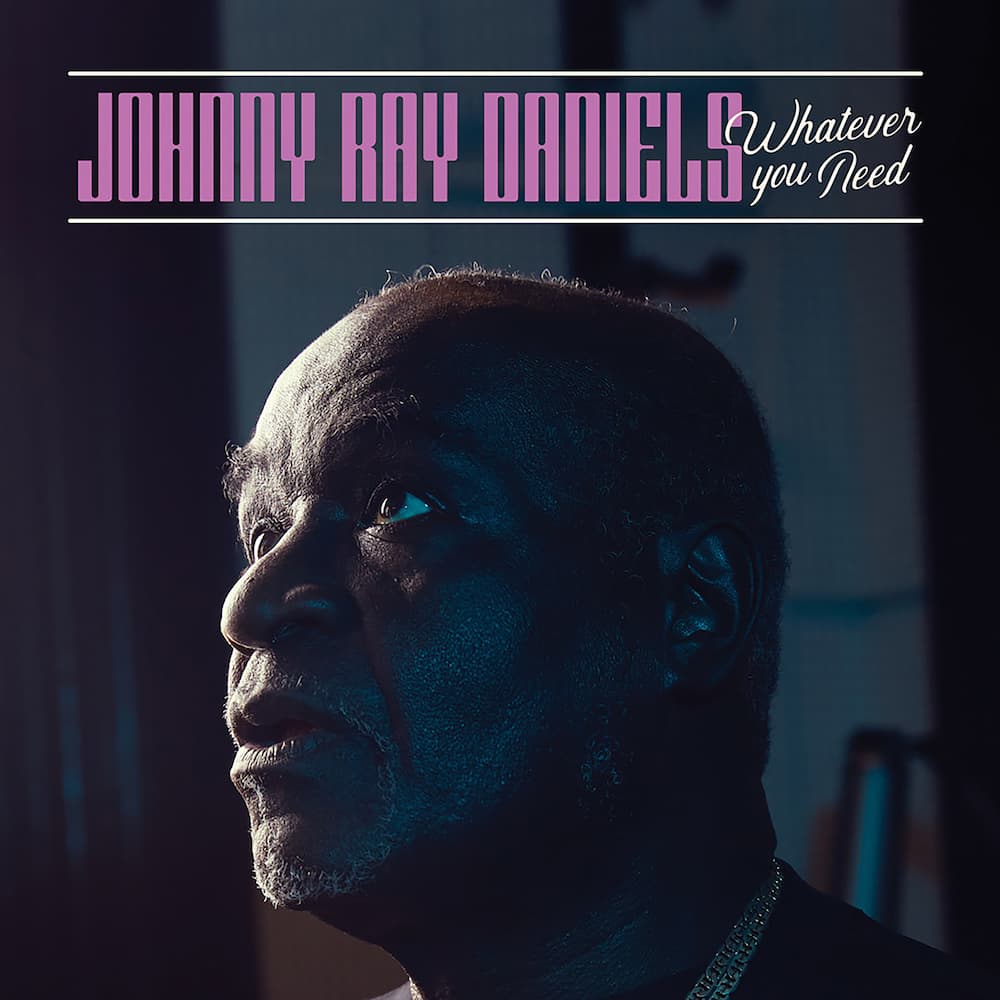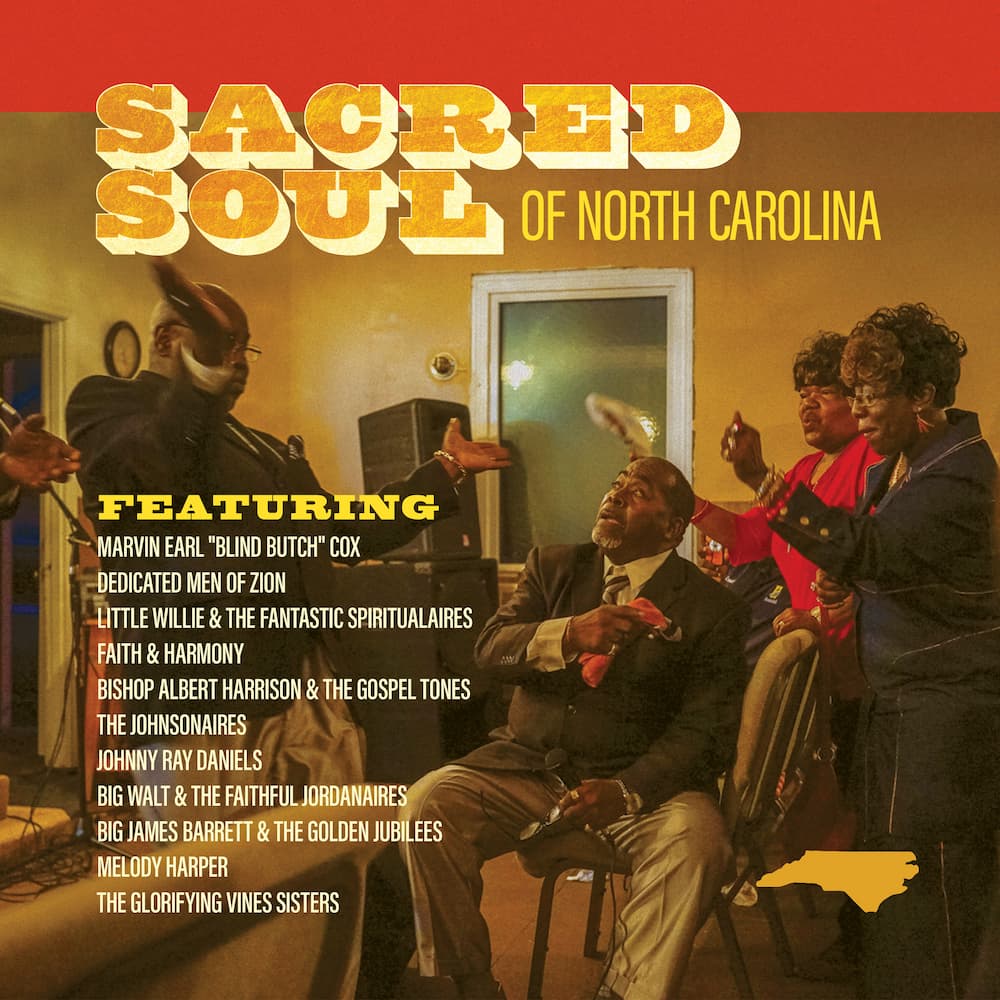 Various Artists, Sacred Soul of North Carolina 
Out 9.24.21 on Bible & Tire Recording Company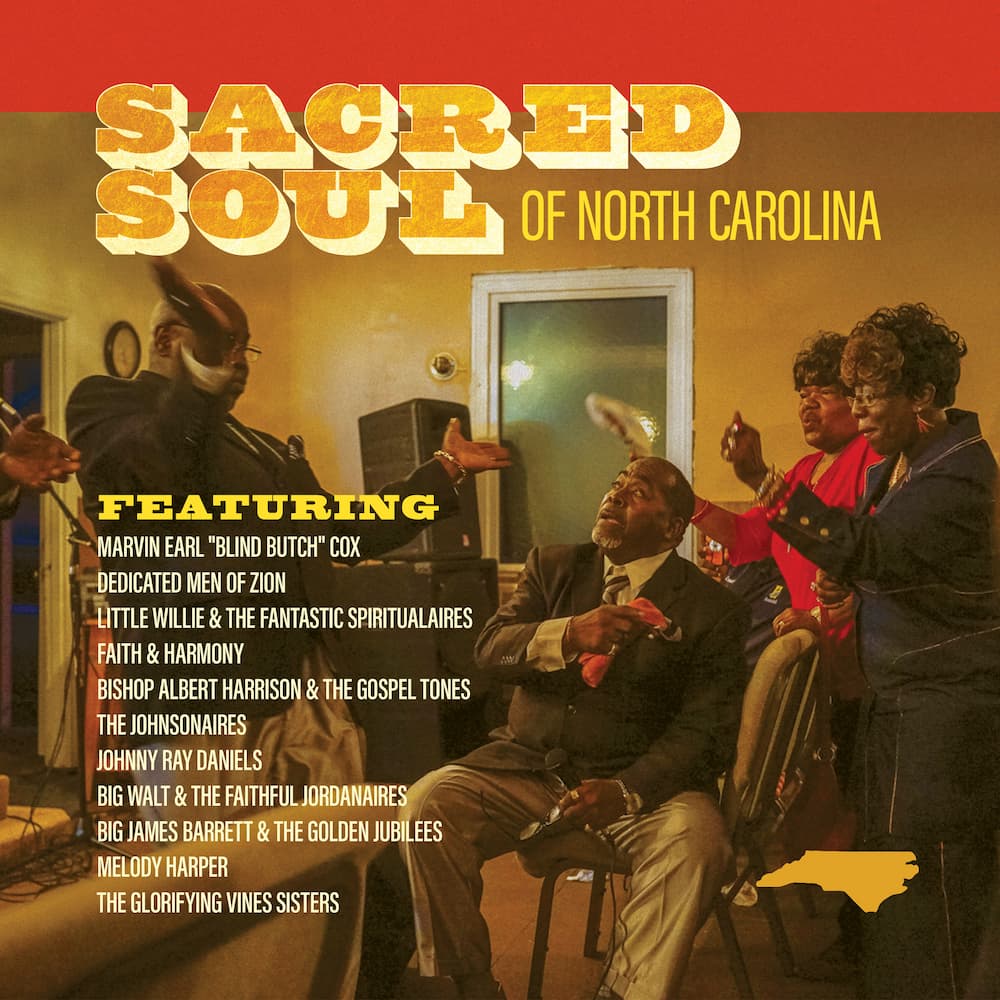 "We Will Work"
Faith & Harmony
"Shake Me"
Bishop Albert Harrison & the Gospel Tones
Sacred Soul of North Carolina
Documentary Feature
"Have You Tried Jesus"
Little Willie & The Fantastic Spiritualaires
Bio – Dedicated Men of Zion
Harmony is serious business where the Dedicated Men of Zion come from. For their eldest member Anthony "Amp" Daniels, it was so serious that every day his mother would call her children inside, turn off the television, and make them sing in harmony, talk in harmony, do everything in harmony. Singing well together was a virtue that she and her sisters had learned from their own father, and Anthony gave it to his children in return. Older folks in the Black communities of rural North Carolina relied on that singing for everything in a time when both respect and money were especially scarce. "That's where that seriousness is from," Amp remembers. "They demand respect. They're serious about what they do and they don't play with God."
The Dedicated Men of Zion came up out of this singing land of eastern North Carolina, around the city of Greenville and its small neighboring town of Farmville. Each trained in the church and the home, the group's four vocalists – Anthony Daniels, Antwan Daniels, Dexter Weaver, and Marcus Sugg – share the bond of that upbringing and another more literal bond of kinship (they're all family now through blood or marriage).
Theirs is a community dense with talent and legendary impact on the origins of gospel, funk, R&B, soul, and jazz; a place where the sounds of Saturday night and Sunday morning couldn't help but jump their lanes. The group's own backgrounds tell that story. Anthony Daniels, the eldest of the group, led a career in R&B down in Atlanta, backing up the likes of Bebe Winans, Toni Braxton, and Elton John. Antwan Daniels, the youngest member and son of Anthony, was playing keyboards and organ in church while simultaneously injecting his hip-hop production work with traditional gospel roots. But the church was always the backbone. Weaver, whose grandmother managed several gospel groups around Greenville, had sung with elder quartet groups for years, running into Anthony Daniels around the sacred soul circuit. When they both found themselves without a group, Weaver turned to Daniels and said "I don't know what you're gonna do but if you do something, I'm on board with you. I want to be with you."
In 2014 Weaver and Daniels, with Antwan on keys, came together to form the Dedicated Men of Zion's original iteration, along with singers Trevoris Newton and Darren Cannon. The group was quickly gaining a following in eastern North Carolina when Newton suddenly passed away in 2018. The loss of one member was soon followed by Cannon's departure. The arrival of Marcus Sugg re-completed the group. Sugg, who had grown up singing in church choirs and a little on the side during a stint in the military, was soon to be Anthony Daniels' son in law.
It was with this new vocal lineup that the Dedicated Men of Zion caught the attention of the Music Maker Relief Foundation while performing in a church concert organized by Music Maker and the Glorifying Vines Sisters, the longstanding Farmville gospel institution of Anthony Daniel's mother and aunts. Joining Music Maker's artist roster of roots musicians from across the South, the Dedicated Men of Zion began reaching new audiences not yet clued in to the rhythmic, electrified, sacred sounds of the rural southeast. Sacred Soul, being the music of personal and collective survival, even secular audiences were catching the spirit of joy and determination. The message, for Anthony Daniels, was always that "if He did it for me, He'll do it for you. Just keep praying and love one another." In troubled times, there's a need for a hopeful word and a testimony that there is a way.
Through Music Maker, the group connected with the newly founded record label Bible & Tire Recording Co., helmed by producer Bruce Watson of Fat Possum Records. Watson had been listening to the hard-praising drive of country gospel coming straight from the church which he'd later coin as "sacred soul". His new label was delivering that genuine soul sound beyond the church circuits from which it came. The gospel music coming out of those small rural Black churches was in fact the headwaters of much of the commercial music made over the last half century, and Watson was ready to bet that mass audiences, already familiar with the sounds of classic soul, would discover a hunger for gospel's emotional truth and purposefulness.
The Dedicated Men of Zion's, Can't Turn Me Around, was recorded in Memphis at Watson's Delta-Sonic Sound in 2019. Backed by Watson's all-star studio band, the recordings bring great depth to the incredible harmonies that soar above. The album marks a moment of clarity for the group. By embracing their roots, they knew they were pointedly taking a right turn where some of their peers had veered left in a race to make gospel sound like anything other than what it was back in the day: soul music. Each track on Can't Turn Me Around comes from that overflowing heritage of sacred soul. Tradition sets a high standard of excellence. What more can new artists pour into that cup? The Dedicated Men of Zion accepted that challenge with the seriousness of their raising and the joy of spiritual inspiration. With their second album they get back to where they came from – soul and the salvation of harmony. In Anthony Daniels' own words, "You want to live, get to where the root is. Get close to the root."
–ZOE VAN BUREN
Johnny Ray Daniels grew up making music with his family in Greenville, N.C. "My mother used to make us sing," he says. "And when people would come, she'd say, 'My boys can sing.' We'd say, 'Mama, we don't want to sing.' Then Mama had a look. She'd look at you to where you'd say, 'OK, we'll sing.' 'Cause we knew if we didn't, when that company left, we were going to get it." Daniels made records with a rock and R&B group called the Soul Twisters before devoting himself fully to gospel in the 1960s. Daniels appears here both as a solo act with his family backing him and as a member of Little Willie and the Fantastic Spiritualaires, an incarnation of a group he's been singing with for over 50 years.
Bio – Various Artists, Sacred Soul of North Carolina
February 2020. Eleven groups in eight days. A marathon recording session in a makeshift storefront studio in a 100-year-old building in the tiny Eastern North Carolina town of Fountain. Once the idea for the project was in place, Alice Vines of the Glorifying Vines Sisters started calling local musicians. It didn't take her long to line up almost a dozen groups to come lift their voices and represent the region's unique Sacred Soul traditions.
"Eastern North Carolina, it's a musical area," says Anthony "Amp" Daniels, leader of the Dedicated Men of Zion. "When I think about it it's just overwhelming to think about all of the different talent. It's just ridiculous." Daniels himself is an embodiment of this musical abundance. He learned gospel music from his parents who learned it from their parents. Now his children are great gospel musicians. Brothers, sisters, aunts, cousins, and many friends are musical as well. Follow all these lineages and a dense web of musical connection emerges. It's like a thick forest with unbelievably deep roots intertwining all the way to the surface where new limbs are perpetually sprouting on old trees. To be immersed in this musical landscape is, as Daniels says, "overwhelming."
The history of the area goes way back. Slaves were living in Eastern North Carolina by the late 1600s. The families of many pre-Revolutionary War arrivals never left the area. It's not hard to find Eastern North Carolinians today—white and black—whose lives unfold within a forty-mile radius of the land lived on and worked by their ancestors 300 years ago. Put that in relation to the fact that gospel singing is so often passed down through families and you realize just how far down the musical roots of this area go.
Styles flourish in Eastern North Carolina that singers in other areas have abandoned as too old-fashioned. It's not that musicians in this area aren't conversant in the full range of contemporary sacred music—from inspirational R&B and holy hip-hop to slick Nashville-produced praise music—it's just that they still find power and vitality in the music their parents taught them.
The area's distinctive gospel style first came to national attention in the 1930s with a Kinston, NC group, Mitchell's Christian Singers. The quartet's tonal heterogeneity and unadorned harmonic palette made their all-acapella style something of a relic even for the time. But music industry legend John Hammond reported that both he and Goddard Lieberson—future president of Columbia Records—wept uncontrollably when they first heard the group. At the behest of Hammond—whose patronage and advocacy fueled the careers of some of the most legendary figures in American music from Sister Rosetta Tharpe to Bob Dylan—Mitchell's Christian Singers traveled from Kinston to New York City to sing in 1938's famous Spirituals to Swing concert at Carnegie Hall. Listen to the recording of "My Poor Mother Died A'Shoutin'" from that concert and you can feel the big city audience collectively holding its breath, utterly entranced by the power of those four Eastern North Carolina voices.
Mitchell's Christian Singers' folk style of quartet gospel evolved into a post-WWII style that formed the basis for the most influential American popular music genres of the 20th century. With new arrangements, electric instruments, and a performance style prizing ever-increasing climbs in intensity leading to explosions of collective ecstasy, gospel quartets laid the foundation for both Soul music and Rock-n-Roll. Ray Charles, Little Richard, Sam Cooke, Wilson Pickett, James Brown—none of these artists would have happened without the precedent of post-WWII gospel quartets.
In the 1950s and 60s, black churchgoers in Eastern North Carolina denounced the fleshly obsessions of Rock and Soul while fervently embracing the hard-driving quartet style that was their sacred progenitor. This was a time of raging white supremacy in North Carolina. As the Civil Rights Movement took hold nationally, a fiery countermovement emerged in the state that swelled its Ku Klux Klan membership to the largest in the country. Pitt County—home to most of the artists on this record—was one of North Carolina's most active Klan counties. The driving quartet singing that rocked churches, community gatherings, and record players filled folks with the joy, hope, and strength to fearlessly face the "many dangers, toils, and snares" that surrounded them.
It is perhaps because this music was such a powerful agent in helping black Eastern North Carolinians get through this dark chapter, that the quartet gospel style has remained vital in the region. But remaining vital does not mean staying stagnant. Grooves and riffs from the secular styles derived from quartet gospel have been mixed back in. At the same time, some singers employ phrases and mannerisms that reach back to the folk gospel era of the early 20th century and even earlier. Groups also take inspiration from gospel choirs and the everchanging trends in contemporary pop gospel. All of it amounts to a vibrant Sacred Soul tradition.
You can hear one manifestation of this Sacred Soul tradition in the supremely funky 1970s records made by the Glorifying Vines Sisters of Farmville, NC—whose family is well-represented on this record. Another version comes through on the 1984 smash sensation by Rocky Mount's Reverend F.C. Barnes, "Going up the Rough Side of the Mountain." Like Mitchell's Christian Singers in the 1930s, this song sounded old-fashioned even for its time. But it proclaimed spiritual truth with such undeniable power that gospel fans couldn't resist. F.C.'s son Luther Barnes has followed in his father's footsteps, building a long and successful career with his own take on roots-infused Eastern North Carolina Sacred Soul.
When Anthony "Amp" Daniels reflects on the Sacred Soul style of Eastern NC he says, "It all comes from the same root, but it's like a tree and branches out. But the roots, that's where it all came from." The metaphor of roots gets used so often in connection to music that people sometimes forget that roots aren't simply stuck in the past. Roots are alive. Although they reach deep down into the past, they nurture life in the present. Black Eastern North Carolinians empowered themselves with sacred music as they pressed on through slavery, Jim Crow, segregation, and the dark times of the 1960s. The roots of this music feed the Sacred Soul traditions of today; traditions alive with the same power to stoke Holy Ghost fire, fuel joy, and embolden people to get through whatever trials come their way. "In the eastern part of North Carolina, there ain't nothing like this old jubilee gospel quartet singing," says Bishop Albert Harrison whose group The Gospel Tones works out of Ahoskie, NC. "I love it all, but you give me that old jubilee gospel singing and we can get through. Through brick walls. With the help of God. We can go through steel walls. That Word, the way you sing it from your heart, it penetrates."
When the groups on this record gathered to record in February of 2020, they couldn't have known that the world was on the heels of a global pandemic, or that the year would bring great turmoil and social upheavals. But in the reality created by gospel songs even the greatest of trials are not surprising, nor can they be ultimately devastating. Every time singers stepped up to the mic during these sessions, they created a sonic world where no amount of bad news can undermine the truth of The Good News. Even when "you can't really see a solution to what you're dealing with at the moment," says Kiamber Daniels of Faith and Harmony, singing gospel music will remind you, "hey, I'm still here; I got what it takes to make it through this. It will give you a sense of peace."
And even more than a sense of peace, this deep-rooted gospel music creates the sound of what black sacred music scholar Ashon Crawley calls "otherwise possibility." The sound opens up a pathway that allows us—believer and non-believer alike—to imagine a world better than the one we have; to really see it, hear it, feel it; to know that such a world is possible. These Eastern North Carolina gospel artists are branches from trees with the deepest of roots. Their voices carry a wisdom and a power that can help all of us more wholeheartedly embrace the good times and gracefully get through the bad times. "Nobody said the road was going to be easy," sings Blind Butch on this record in his stirring solo rendering of the Rev. James Cleveland classic, "but I don't believe He's brought me this far to leave me."